You can create so many fast, flavorful vegan meals with a humble can of chickpeas! Here are 25 of my favorite, nutritious vegan chickpea recipes for lunches, satisfying snacks, and weeknight dinners.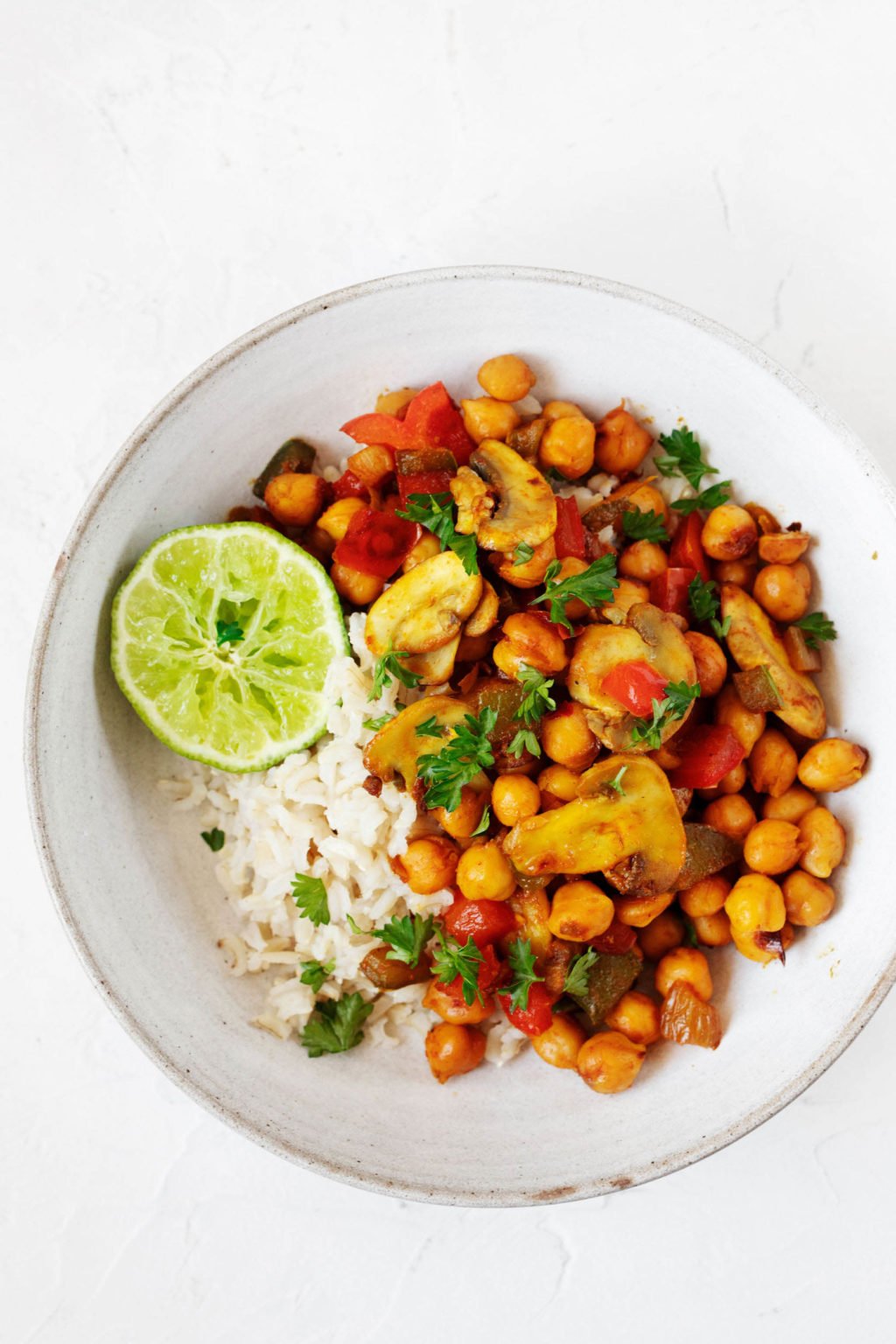 I always tell my nutrition clients that, if you have a can of chickpeas in the pantry, you're about halfway to a nutritious meal. I can't think of a legume that I rely on more often in my own cooking. I've never been more grateful for chickpeas than I have been this year.
Chickpeas are one of my favorite sources of plant protein, and I love their versatility. Chickpeas can become dips, lunch salads, a crispy topper for salads, or the cornerstone of an awesome vegan main dish.
Healthy benefits of chickpeas
Chickpeas, like all pulses, are a good source of plant protein. But they're also notable for other important nutrients.
One is folate, which is important for red blood cell production and for preventing developmental problems in babies. Another is iron, which is an important nutrient for plant-based eaters to consider. A half cup serving of cooked chickpeas has about 10% of the RDA of iron for the day. Combined with other iron-rich ingredients, this is a good amount. Finally, chickpeas contain zinc, which is important for immune function.
Aside from these micronutrients, chickpeas are rich in dietary fiber, which is important for both digestive health and healthy blood lipids. They provide complex carbohydrates, which are important for sustaining energy.
How much protein is in chickpeas?
And there's the protein, of course! Half a cup of cooked chickpeas provides about seven grams of plant protein. If you combine the chickpeas with protein rich grains, like quinoa, or leafy greens—as many of the recipes below do—they'll help contribute to your overall protein intake.
How to cook dried chickpeas
On the stovetop
There are two ways to cook chickpeas. The first is to cook dry chickpeas from scratch.
To do this, you soak the chickpeas overnight, or for eight hours. In the morning, you discard the soak water and add the dried chickpeas to a pot with enough fresh water to cover them by about five inches. Reduce the heat to low and simmer the chickpeas for 90-120 minutes, or until they're tender but not mushy.
After boiling, you can drain the chickpeas and use them right away in these vegan chickpea recipes. You can also store them in the fridge for up to four days, or you can freeze them for up to four weeks.
In the slow cooker
If you have a slow cooker, you can also add a pound of dried chickpeas to your slow cooker along with seven cups of water, 1 1/2 teaspoons of kosher salt, and 1/4 teaspoon baking soda. Cook them for four hours on high or eight hours on low heat. Drain the chickpeas before using or storing.
I learned this method from Alton Brown, and I've had great success with it!
How to cook with canned chickpeas
Cooking with canned chickpeas is a lot quicker than preparing them from scratch. They're fully cooked when they come out of the can. To use them in recipes, you need only heat them up.
Preparing chickpeas from scratch is the most economical option. But canned chickpeas are also perfectly healthy and nutritious. I encourage my clients to rely on canned legumes for convenience and ease, especially in stressful or busy times.
Some canned chickpeas have more added salt than other, so it's worth peeking at ingredient labels if sodium intake is a concern for you.
Can you freeze chickpeas?
You can definitely freeze chickpeas. Whenever I cook a pound of dried chickpeas from scratch, I immediately freeze at least half of the cooked beans.
Cooked chickpeas, once cooled, can be put in storage containers or silicone bags and transferred to the freezer. They'll keep well in the freezer for at least four weeks; I often freeze them for up to six weeks at a time with no problems.
25 Vegan Chickpea Recipes
Once your chickpeas are cooked, you can use them in any one of the following twenty-five wholesome, tasty vegan chickpea recipes. These are only a sampling of the many rewarding, delicious meals that I regularly make with chickpeas.
These recipes are a great starting point if you're new to cooking with beans. And if you're already a chickpea fan, maybe they'll give you some fresh inspiration. Included in the list is a recipe for quick, easy chickpea scramble, a simple skillet meal that's perfect for savory breakfast.
And last but not least, my chickpea scramble. This is a great one for piling over cooked rice or toast. I love it with fresh herbs, or with a generous drizzle of yum sauce!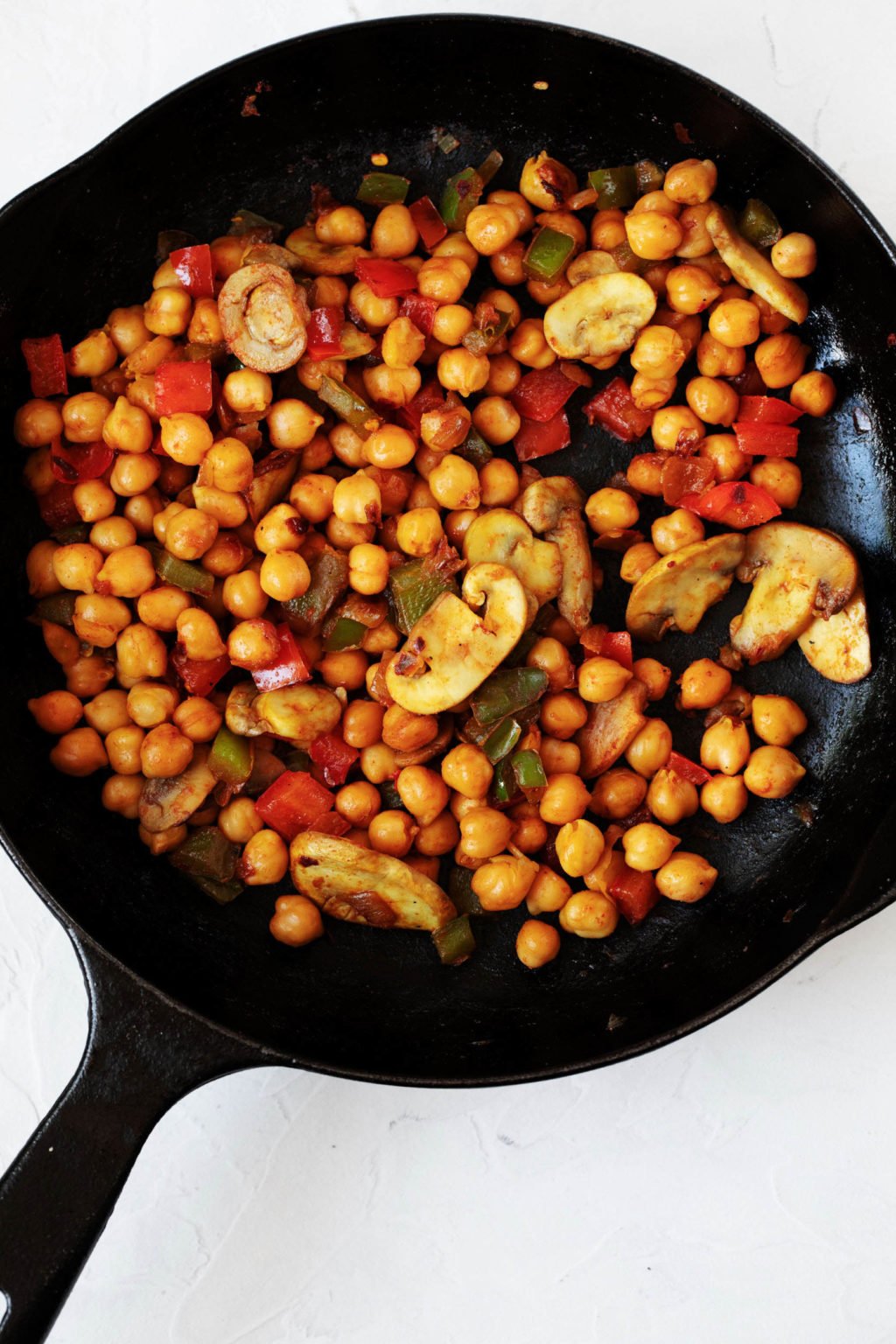 I hope these recipes will give you a little inspiration for the next time you find yourself with limited energy to cook, but a can of trusty beans in your pantry. Enjoy!
xo