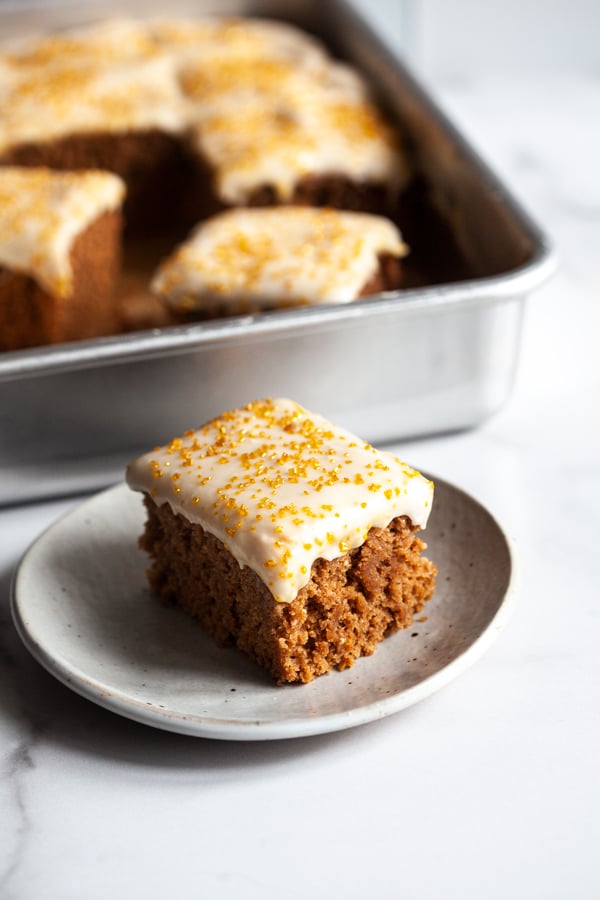 This vegan cinnamon spice sheet cake with cream cheese frosting is my answer to the many recipe flops I've had lately: a delicious, fragrant, festive cake that isn't overly complex or difficult to make/decorate.
When I first thought about making this cake, I thought it would be a gingerbread cake, modeled after this beloved recipe. But, even though that recipe is a little lighter as far as gingerbread cakes go, I was still craving less of the sticky molasses effect than it creates. I wanted something that had the spices and festive flavor of the holidays, but with a light texture and a flavor mild enough to invite some tasty frosting.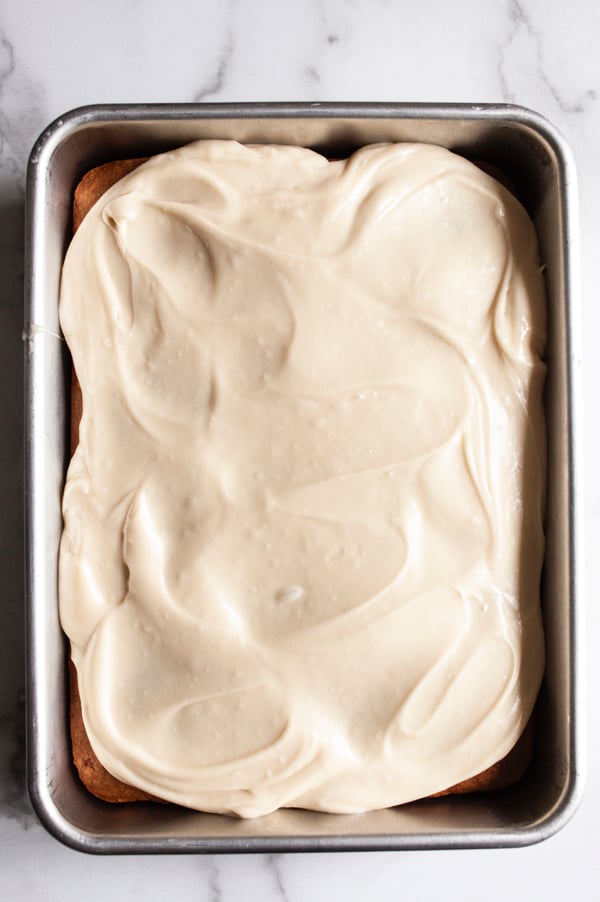 This is it. And it's a joy to make and eat.
One of the nice things about this cake is that you can treat it like a less dessert-like snack cake and skip the frosting. The amount of sugar in it it actually keeps the cake itself on the less sweet side, given that it yields 12-15 servings. So it's a treat, but a low-key one, on its own.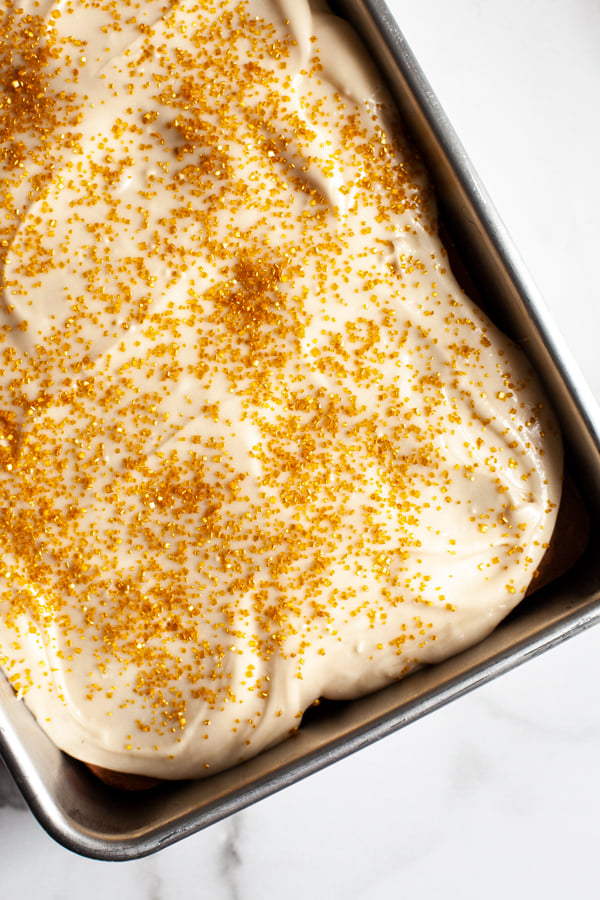 If you're in the mood for something sweeter and more festive, add the cream cheese frosting and some sprinkles or sparkling sugar of choice! (There are a few good online resources for finding vegan sparkles and cake decorations, if you Google it; even some mainstream brands are vegan as is, depending on the colors and ingredients.)
The cake can be frozen ahead of time (3-4 weeks), and the frosting can definitely be prepared a day or two in advance of using; just be sure to rewhip it a little to make it soft and fluffy again. When I made the frosting, I found that using vegan butter and cream cheese that were too soft led to a runny frosting that was more like icing, so I recommend bringing them to almost room temperature before you add them to your mixer.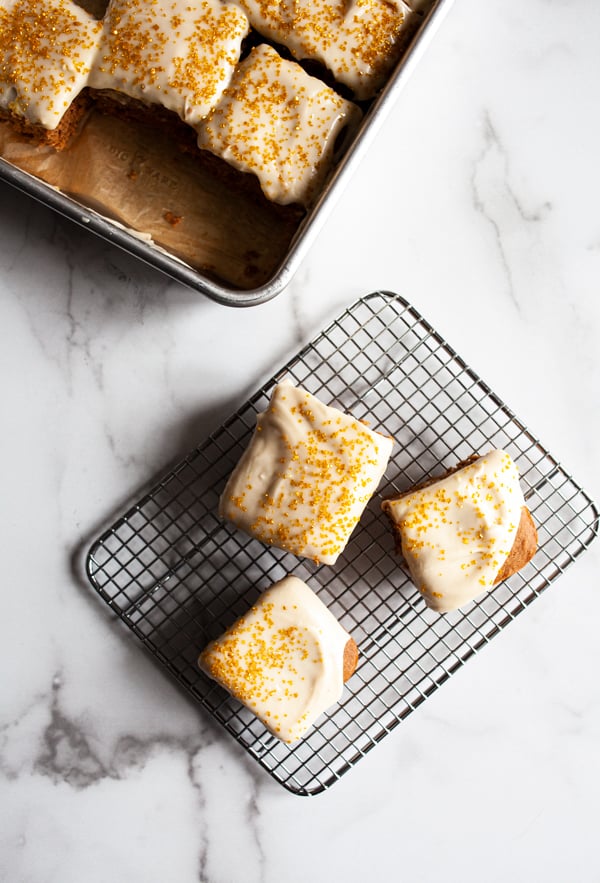 Cinnamon Spice Sheet Cake with Cream Cheese Frosting
Servings: 15 servings
Ingredients
Cinnamon Spice Sheet Cake
4

cups

unbleached all purpose, white whole wheat, whole wheat pastry, or light spelt flour (or a combination of these!)

1 1/2

teaspoons

baking powder

1/2

teaspoon

baking soda

1

tablespoon

ground cinnamon

1 1/2

teaspoons

ground ginger

1/2

teaspoon

ground nutmeg

1/4

teaspoon

ground cloves

1/2

teaspoon

fine salt

1 1/2

cups

packed brown sugar or coconut sugar

1/2

cup

neutral flavored vegetable oil (such as safflower, refined avocado, or grapeseed)

2

teaspoons

vanilla extract

1 1/3

cups

vegan buttermilk (non-dairy milk combined with 2 teaspoons apple cider vinegar or lemon juice, then allowed to sit for a few minutes)

1

cup

plain applesauce
Vegan Cream Cheese Frosting
8

tablespoons

vegan butter of choice, allowed to soften at room temperature for 15 minutes

8

ounces

(about 1 cup) vegan cream cheese of choice, allowed to soften at room temperature for 15 minutes

1

teaspoon

vanilla extract

3

cups

confectioners sugar

sprinkles or edible sugar, for decorating (optional)
Instructions
Preheat your oven to 350F. Lightly grease a 9 x 13 inch baking pan and line the bottom with a piece of parchment.

Sift the flour, baking soda, baking powder, and spices into a large mixing bowl. Add the salt.

In a separate large bowl, mix together the sugar, oil, vanilla, buttermilk, and applesauce. Pour these wet ingredients into the dry ingredients. Use a hand mixer or whisk to mix the batter well, until no visible lumps remain.

Pour the cake into your cake pan and bake for 35 minutes, or until the top is firm and set or a toothpick inserted into the center comes out clean. Check at 30 minutes if your oven is hot, and give it an extra 5 minutes if it's not ready at 35 minutes. When the cake is done, allow it to cool completely (1-2 hours).

When the cake is ready, or in advance, prepare the frosting. Add the butter and cream cheese to the bowl of a stand mixer fitted with the paddle attachment (alternately, use a hand mixer on medium low speed). Beat for a few minutes on medium low speed, then add the vanilla and incorporate it fully. Add the sugar, one cup at a time, beating on low speed. Switch to the whisk attachment if using a stand mixer, then continue to beat on medium speed until the frosting is fluffy and smooth.

Use an inverted spatula to cover the cake with frosting. Garnish with sprinkles, if you like. Cut into 12-15 slices and serve!
Notes
In place of the flour, you can use a GF flour blend that you trust.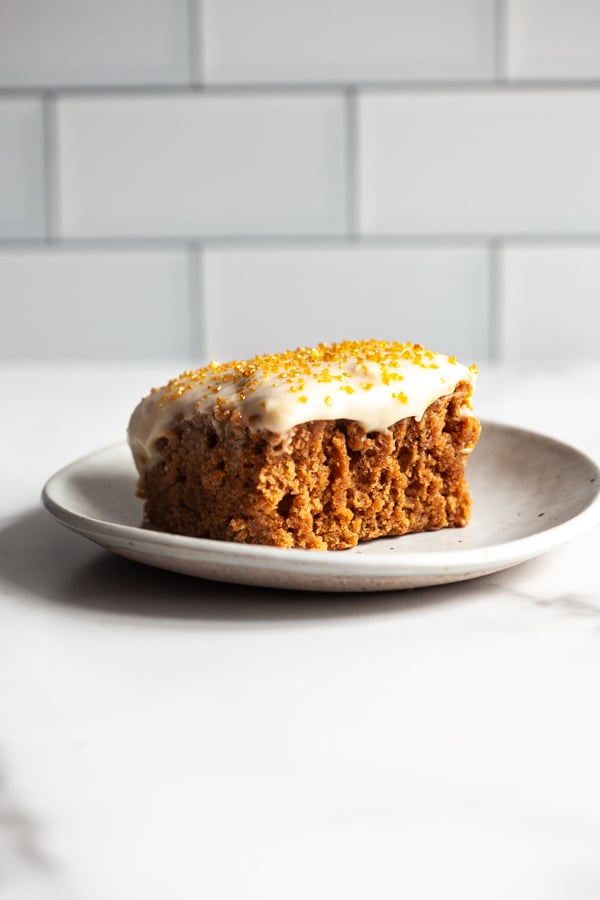 To be honest, there are lots of other holiday goodies I want to make and share. But when I'm feeling overwhelmed or at odd with myself in the kitchen, there's always one dessert that calls to me, and it (and always will be, probably) cake. I hope this one hits the seasonal spot for you, just as it has for me.
Happy Monday, friends. More festive food soon!
xo