This one-pot lentil tomato pasta stew is so cozy, hearty, and comforting! It's also packed with plant-based nutrition from vegetables and legumes, and it's easy to make gluten-free.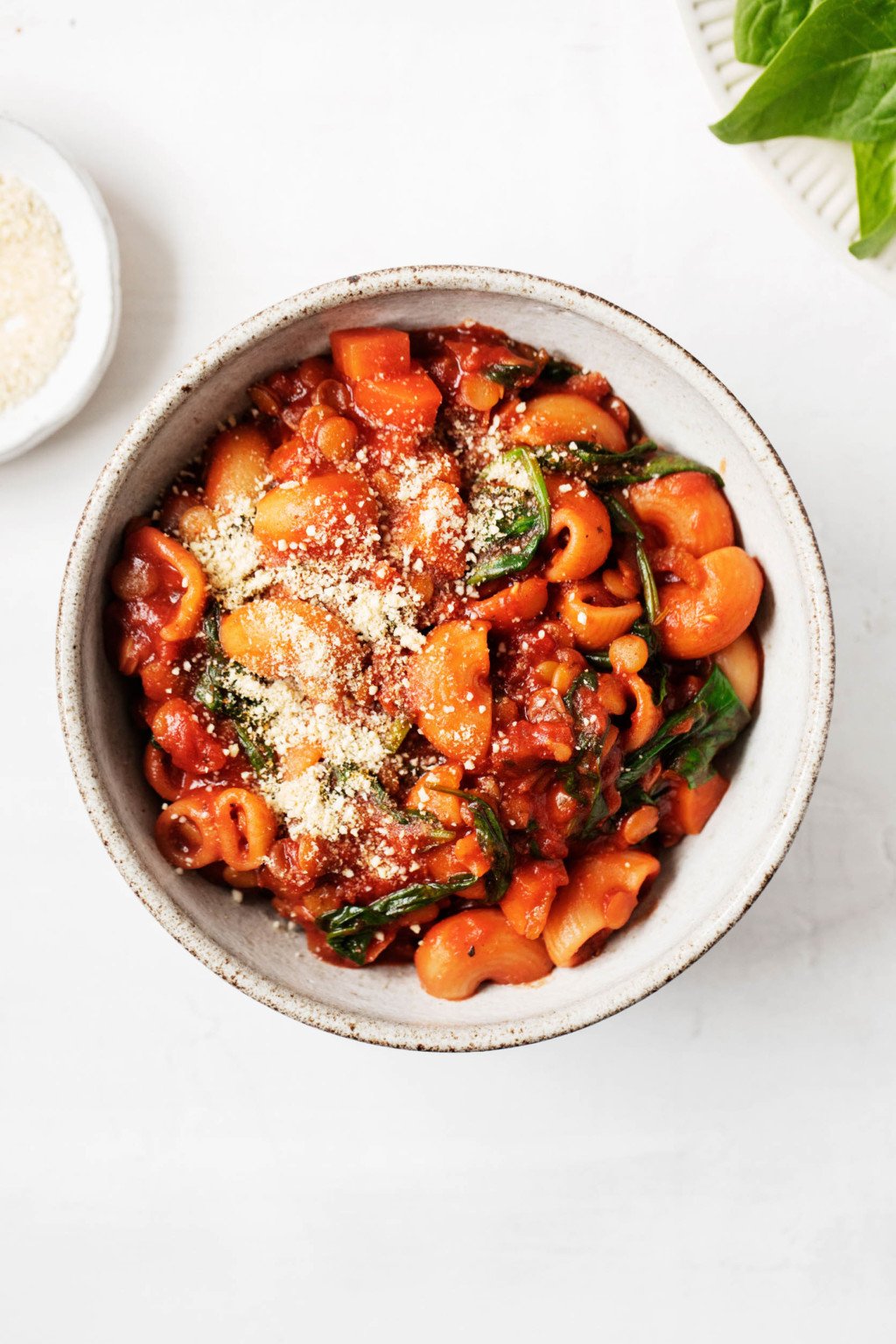 New York City has been visited by a couple snowstorms in the last few weeks. Not to mention the customary 20- and 30-something degree temperatures of February. It's a very good time for stew.
I can't think of a better cozy bowl to dive into than this lentil tomato pasta stew.
This recipe came about in the most straightforward of ways. I thought about some of the things I love to eat most—lentils, tomato, kale, pasta—and threw them together in a soup pot.
I eat a lot of suppers of pasta with marinara sauce and lentils on top. Sometimes I throw greens or other vegetables into the mix. This meal is a variation on that formula, but it has a soupy, saucy, spoonable goodness that is all its own.
I've made two batches in less than a month, and I've looked forward to every single helping.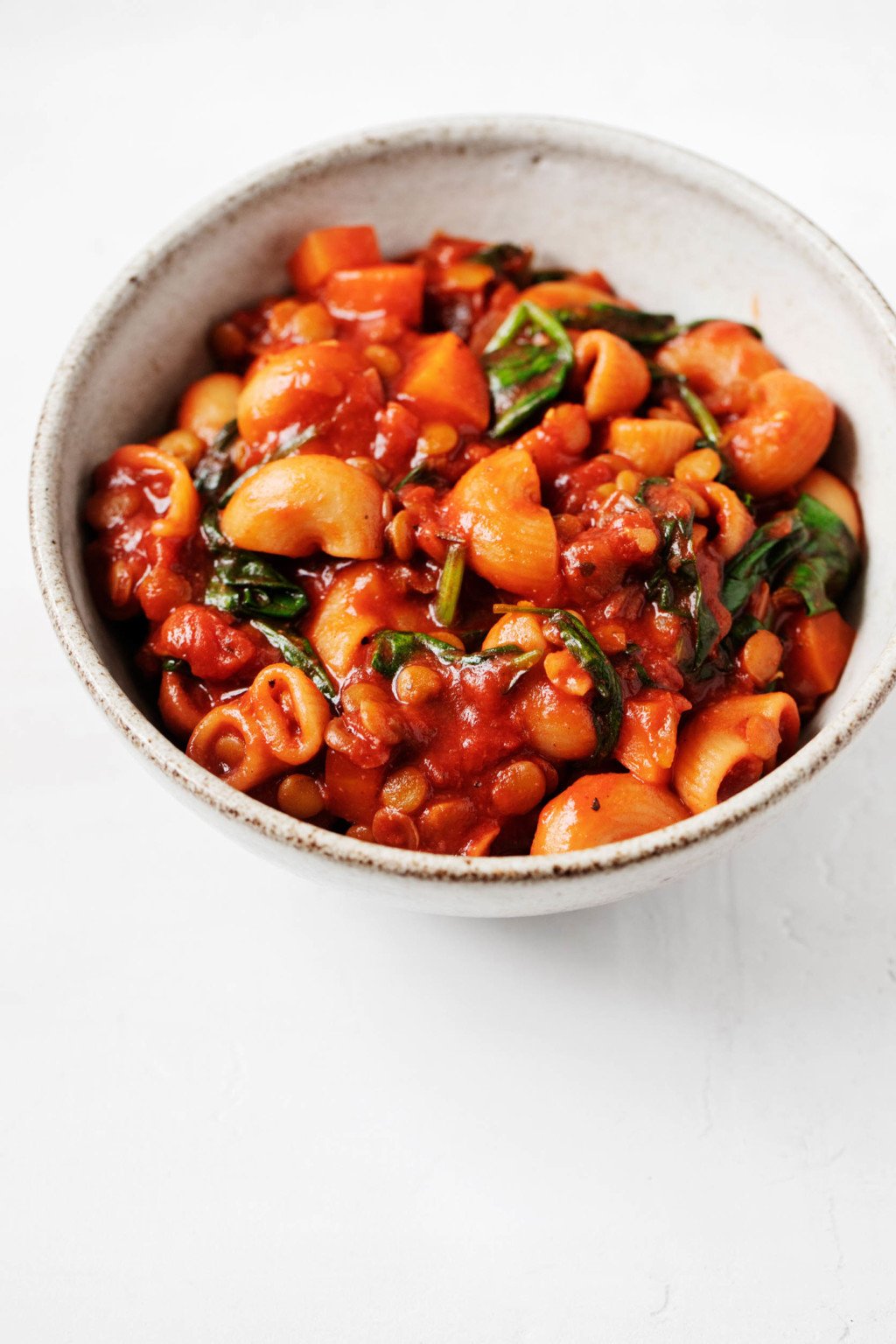 Soup vs stew (does it matter?)
My intention for this recipe was to make soup. But it turned into stew instead.
What's the difference? It's sort of a blurry distinction. Both soups and stews are any combination of vegetables and/or proteins that have been cooked in liquid.
The amount of liquid is what differentiates the two dishes. Soups generally contain more liquid than stews. A liquid base (broth, water, puree) is usually the main component of a soup, while a stew is more of an assemblage of ingredients that cook together in, or with, liquid.
That's what's happening with this lentil tomato pasta stew. You'll add plenty of liquid to the dish, but this meal is a little too thick to qualify as soup. So stew it is, though of course these are very interrelated categories. Especially for me, since I like my soups on the thicker side to begin with.
No matter what you call it, the recipe is a one-pot meal that's as easy to make as it is delicious.
Lentil tomato pasta stew ingredients
Simple ingredients add up to something wonderfully comforting in this lentil tomato pasta stew recipe. Here's what you'll need:
Lentils
The stew could be made with green, brown, black, or even red lentils. I have a real soft spot for pardina lentils. They're a type of brown lentils that are buttery and tender, yet still firm enough to hold their round shape after cooking.
Tomatoes
You'll need both a 28-ounce (794 gram) can of crusted tomatoes and a few tablespoons of tomato paste for the recipe. The crushed tomatoes add body and Italian-inspired flavor to the soup. The tomato paste adds umami and deep, concentrated flavor.
If you're out of crushed tomatoes, you can go soupier and use pureed tomatoes instead. Or, you can make the stew more chunky by using diced tomatoes.
Pasta
I recommend a medium pasta shape for the soup. I've made it so far with orecchiette and lumache, but I'm eager to try it with cavatappi and campanelle.
You could also use a short pasta shape, like elbows, ditali, or shells. Personally, I like the way a medium pasta shape provides contrast with the small diced vegetables and tiny lentils!
Greens
I usually throw greens into my soups and stews for added nutrition, and this lentil tomato pasta stew is no exception.
The green you choose could be kale, spinach, rapini, collards, or beet greens. You could also add chopped broccoli florets, zucchini half-moons, or green beans for a pop of green. Nobody wants to make unnecessary grocery trips in the cold, let alone a pandemic winter, so by all means, use what you have.
Broth
Vegetable broth and vegan no-chicken broth will work well in the recipe. If you have homemade, so much the better.
But if you, like me, can't remember to keep vegetable broth stocked, let alone make your own, then it's helpful to keep some vegan bouillon cubes handy. Lately, my favorite vegan broth-hack is Yondu. Yondu is an all-purpose, plant-based savory seasoning, that turns easily into broth for recipes.
Cashew parmesan
A sprinkle of cashew parmesan cheese will take your bowl of lentil tomato pasta stew over the top. Vegan parmesan compliments the Mediterranean flavors of the dish so nicely.
If you don't feel like making your own vegan parmesan, you can substitute your favorite store-bought version. A melty, shredded-style plant-based mozzarella will also work well.
Stew variations
No lentils? No problem. Try adding 3 cups of cooked chickpeas, kidney beans, navy beans, or another cooked legume to the stew. I don't recommend adding another dry legume, because the cooking time will be much longer than what's listed here. So if you don't use lentils, cook your beans first.
You can make the lentil tomato pasta stew even heartier and more flavorful, not to mention protein-rich, by adding chopped vegan sausage or beef-style crumbles to your pot.
I've kept a three-year pasta supply in my pantry through all of quarantine (only a small exaggeration). If I happened to run out of pasta, though, I'd definitely try this stew with pearled farro, barley, or quinoa.
Add liquid to taste
The stew recipe calls for four cups of broth and two cups of water. Once the soup has simmered for the indicated amount of time, you can choose to add extra broth or water as needed. You might want something more soup-y; if so, go for it!
Can lentil tomato pasta stew be frozen?
Two pieces of good news. First, the lentil tomato pasta stew leftovers will keep for a while. They're good up to five or six days in an airtight container in the fridge.
And if you don't think you'll get around to polishing off this whole recipe before then, yes! You can freeze the lentil tomato pasta stew leftovers for up to six weeks.
Can lentil tomato pasta stew be prepared gluten-free?
The soup has complete gluten-free potential. Just use your favorite gluten-free pasta shape or legume-based pasta in place of traditional pasta when you make the recipe.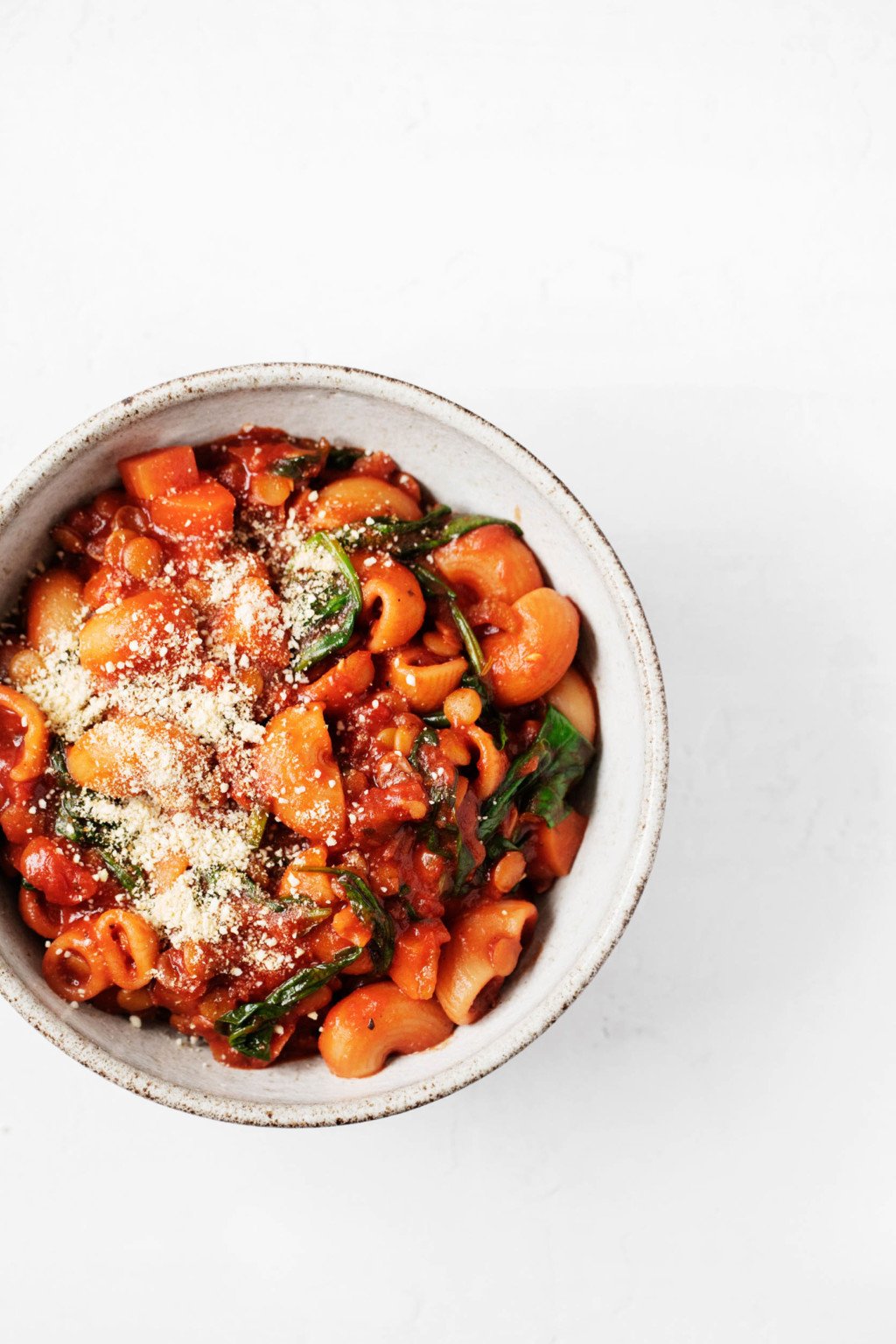 More stews to savor
If you can't get enough wintery stews, here are some more of my favorites: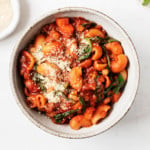 2

tablespoons

olive oil

1

large onion, chopped

3

stalks celery, chopped

3

carrots, scrubbed or peeled and chopped

4-5

(to taste) cloves garlic, minced

3

tablespoons

tomato paste

1

cup

(200 g) brown, green, black, or French lentils

1 1/2

cups

(5 oz/280 g) medium or small pasta shape

28

ounces

crushed tomatoes

(3 cups)

4

cups

vegetable or vegan no-chicken broth 

2

cups

water

2

teaspoons

dried oregano or Italian seasoning

1/2-1

teaspoon

kosher salt

(adjust based on how salty your broth is, and to taste)

1

bunch Tuscan or curly kale, stemmed and chopped (or another leafy green of choice)

Freshly ground black pepper

(to taste)

Cashew parmesan cheese

(optional, for topping)

Chopped fresh parsley leaves

(optional, for topping)
Heat the olive oil in a large, heavy-bottomed pot over medium heat. When the oil is shimmering, add the onion, carrots, and celery. Sauté the vegetables for 6-7 minutes, stirring often, or until the vegetables are clear and soft. Add the garlic and tomato paste to the pot. Continue sautéing the ingredients for another minute, till the garlic is fragrant.

Add the lentils, pasta, tomatoes, broth, water, and oregano to the pot. Bring everything to a boil. Reduce the heat to low. Cover and simmer the stew for 15 minutes.

After 15 minutes, add the chopped kale and salt to the pot. Recover and simmer for another 10 minutes. Taste the stew to be sure that the lentils and pasta are both tender; if not, simmer the stew for another 5-10 minutes.

Taste the stew. Add additional salt and freshly ground black pepper to taste, as well as some extra water to loosen the stew up if you like. Divide the stew into bowls and top with cashew Parmesan or fresh chopped parsley leaves, if desired.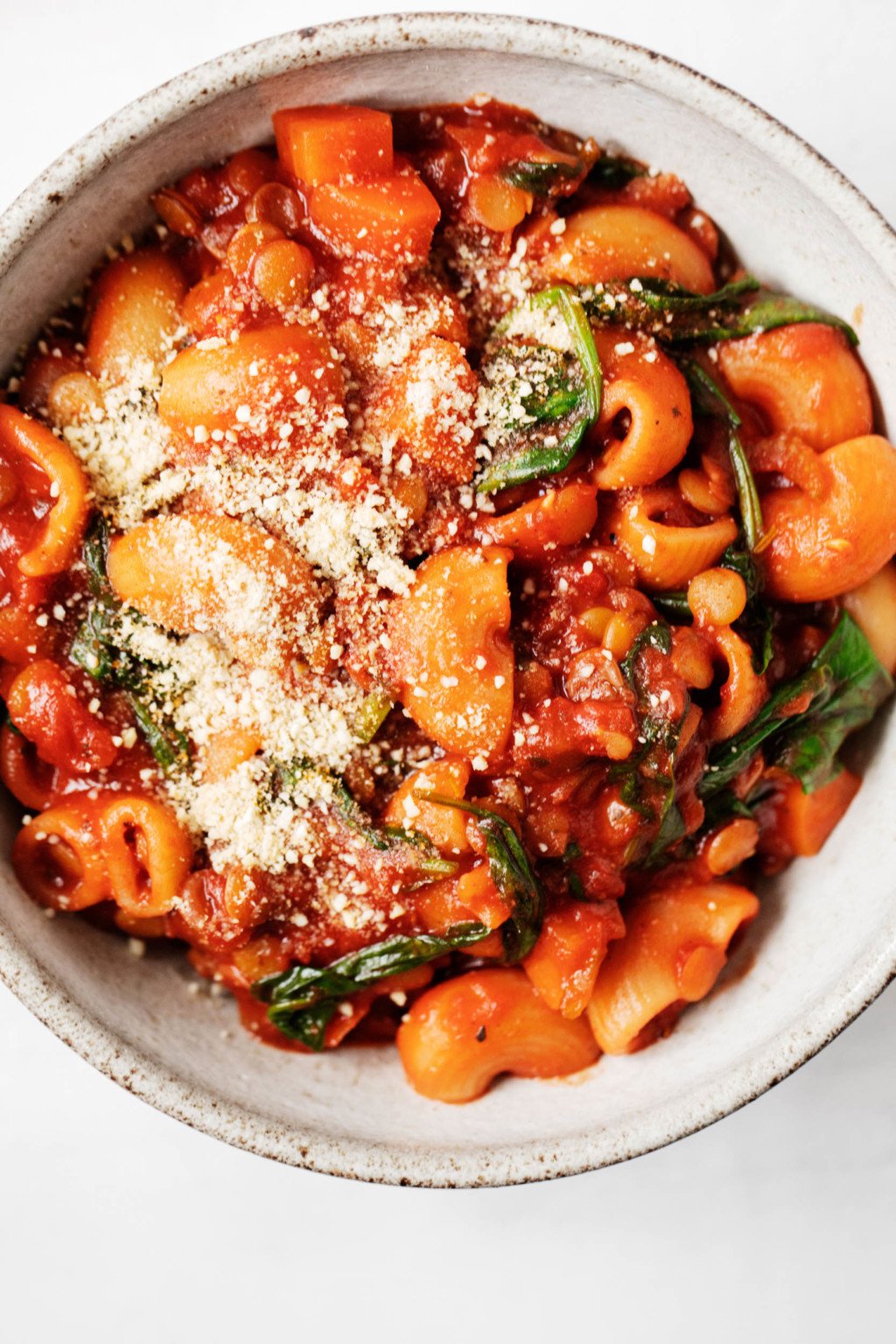 In spite of the intensity and difficulty of the times we're living in, I'm trying to lean into this stay-at-home winter. This means lots of reading (I've had the attention span to finish a few novels for the first time in a while), getting focused with my work, and cooking.
Cooking fatigue and kitchen disasters aside, cozy homemade food is one of the things I love most about these cold months. And this wonderful stew is a highlight. I hope it brings comfort and joy to your February afternoons and evenings, too.
xo