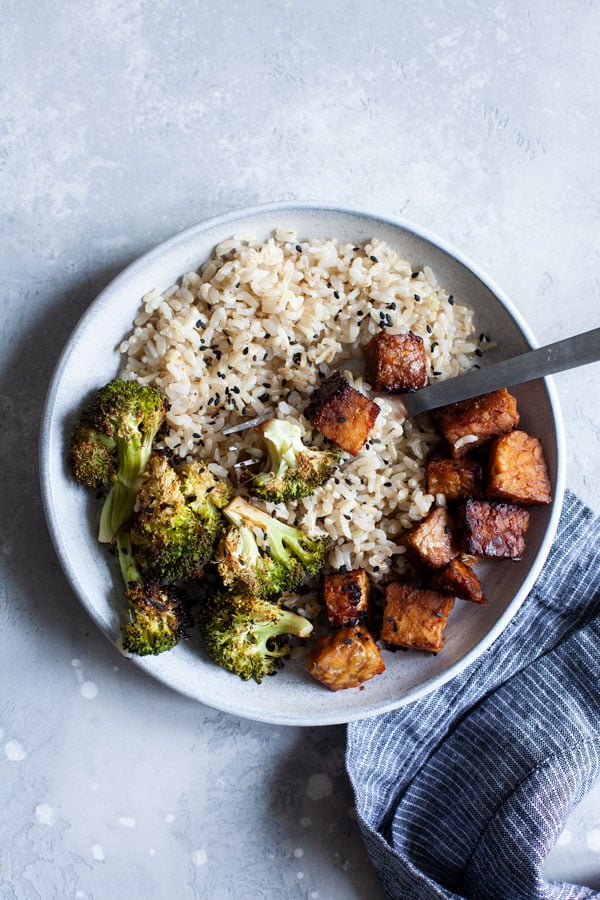 The other day, I took a little Instagram poll to figure out what sort of recipes you'd like to see more of, or which things you'd be curious to see me veganize. I did this partly for your sake and mostly for mine: I've been low on recipe ideas lately, and readers are always my best source of inspiration.
Here's a sampling of what was requested:
Pizza
Lasagna
Eggplant parmesan
Simple, take-to-work lunches
Anything with lentils
Pretzel bites
Cannoli filling (first I'll need to figure out how to make cannolis 😉)
Anything quick and/or easy
Stir fries
Vegan sandwiches
I loved getting requests. It was a reminder that I should ask for advice when coming up with my meal plans more often.
For now, I'm checking the "anything quick and/or easy" box with this recipe for tamari glazed tempeh and broccoli. On its own, it's a quick way to a vegan protein + vegetable combo, which you could eat the way it is or add to a salad/bowl. If you have some cooked or frozen rice at the ready, or some soba or udon noodles to boil up, it's a perfectly satisfying dinner. And while it's not exactly a 20-minute recipe, it's practically hands-off.
The recipe starts with giving tempeh a marinade in tamari, vinegar, and maple syrup (along with some crushed red pepper flakes for heat). You can do this in the fridge overnight, or for a couple hours, depending on what works for your schedule.
You can also choose to steam the tempeh first, or not. I didn't use to do this, but I've been getting into the habit lately. I do it less to decrease bitterness—the usual rationale—than to tenderize the tempeh, which I think it really does. And that's especially nice when tempeh gets baked, because it can dry out a bit in the oven.
After this is done, you spray a lined baking sheet with oil, place the tempeh cubes and some broccoli florets on it, and pour the marinade over everything. Bake for 35 minutes, and a protein-rich meal awaits!
Sheet Pan Tamari Glazed Tempeh & Broccoli
Servings: 3 servings
Ingredients
3

tablespoons

tamari (regular or reduced sodium, according to your preference)

3

tablespoons

rice vinegar (substitute apple cider or white wine vinegar)

2

tablespoons

maple syrup

2

cloves garlic, minced (or 1/4 teaspoon garlic powder)

2

teaspoons

freshly grated or minced ginger (or 1/2 teaspoon ground ginger)

generous dash crushed red pepper flakes

8

ounces

tempeh, cut into cubes (about 1″, or 16 cubes per 8-ounce block)

3

cups

bite-sized broccoli florets and/or stems

avocado or canola oil spray (optional)

brown rice or noodles, for serving (optional)

sesame seeds, for serving (optional)
Instructions
If you'd like to, steam the tempeh for 10 minutes.

Whisk together the tamari, vinegar, syrup, garlic, ginger, and red pepper flakes. Place the tempeh cubes in a rectangular or square glasslock container and pour the marinade over them. Cover the container and allow the tempeh to marinate for a couple hours, or overnight in the fridge.

Preheat your oven to 400F. Line a baking sheet with parchment or foil and coat it with vegetable oil spray. Remove the tempeh cubes from the marinade (reserving the marinade) and arrange them on half of the baking sheet. Arrange the broccoli on the other half. Pour the marinade over the tempeh and vegetables. Roast for 35 minutes, or until the tempeh and broccoli are browning, flipping the tempeh cubes once halfway through cooking.

Serve the tempeh and broccoli over rice, noodles, a salad, or whatever you like. Sprinkle with sesame seeds if desired.
I love that this dish doesn't require any stovetop babysitting, that it's flavorful without a complicated ingredient list, and that the leftovers taste great for days (which I'm discovering right now).
For the record, I've made it twice now, and the powdered garlic/ginger version is really good. If not having to mince anything is an additional selling point, don't shy away from that option.
Hope this dish might bring some ease to your batch cooking or weeknight meals, just the way it has mine. It's a keeper. And feel free to share more recipe requests if you've got 'em.
Happy Tuesday!
xo