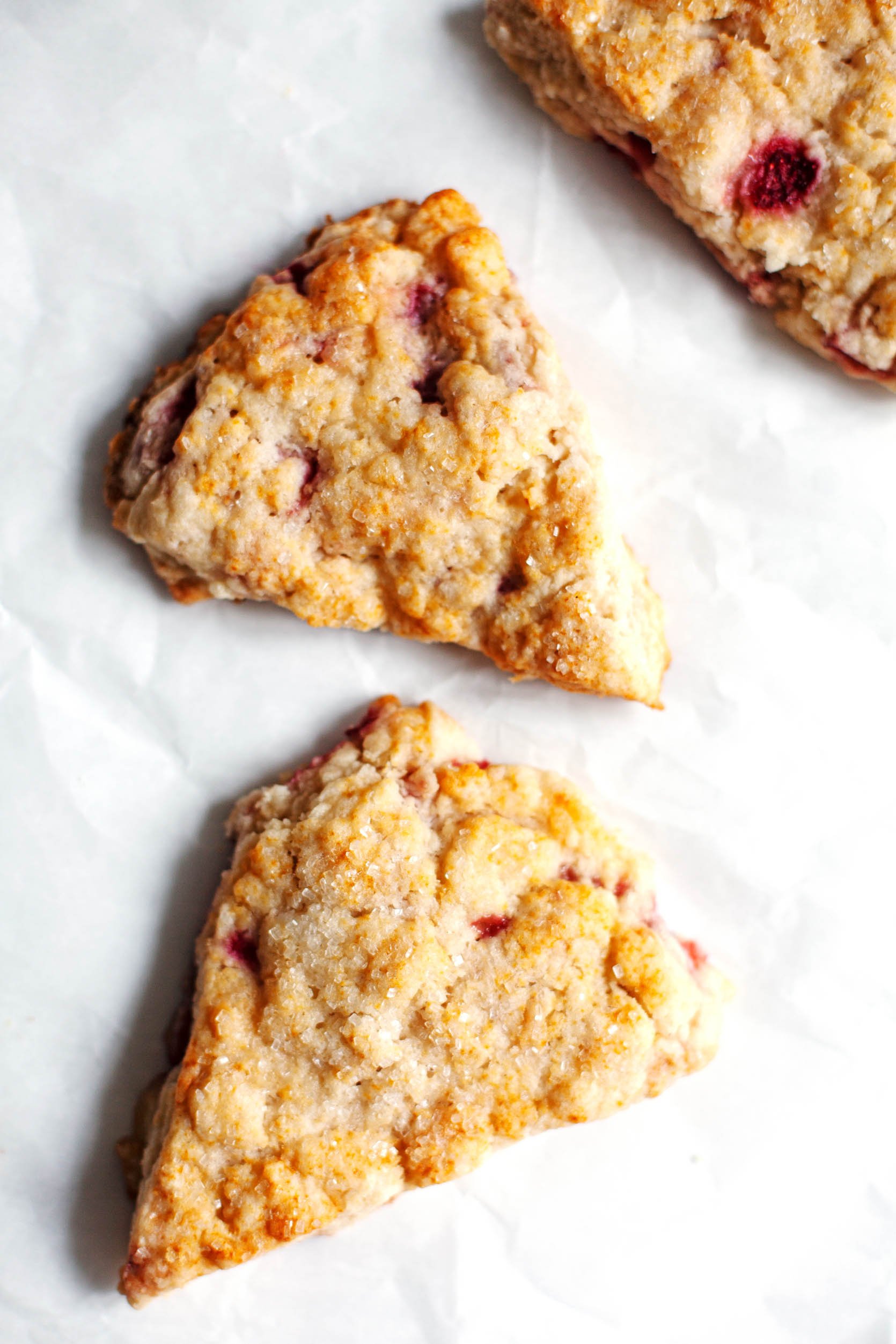 I can eat strawberries by the pint during these summer months. I have no objections to enjoying them just as they are, with vegan yogurt, or with some cashew whipped cream. However, I'm also delighted to bake with my them, which is what I was up to last week. These are the best vegan strawberry scones I've had. They might also be the best vegan scones I've made myself!
I've always loved scones, but I didn't actually discover them until high school. There was a place around the corner from my school that sold raisin, chocolate, chip, and cranberry scones. As soon as I tasted them, they became my favorite after school treat—long before I was a regular enough baker to consider making them on my own, let alone veganizing them.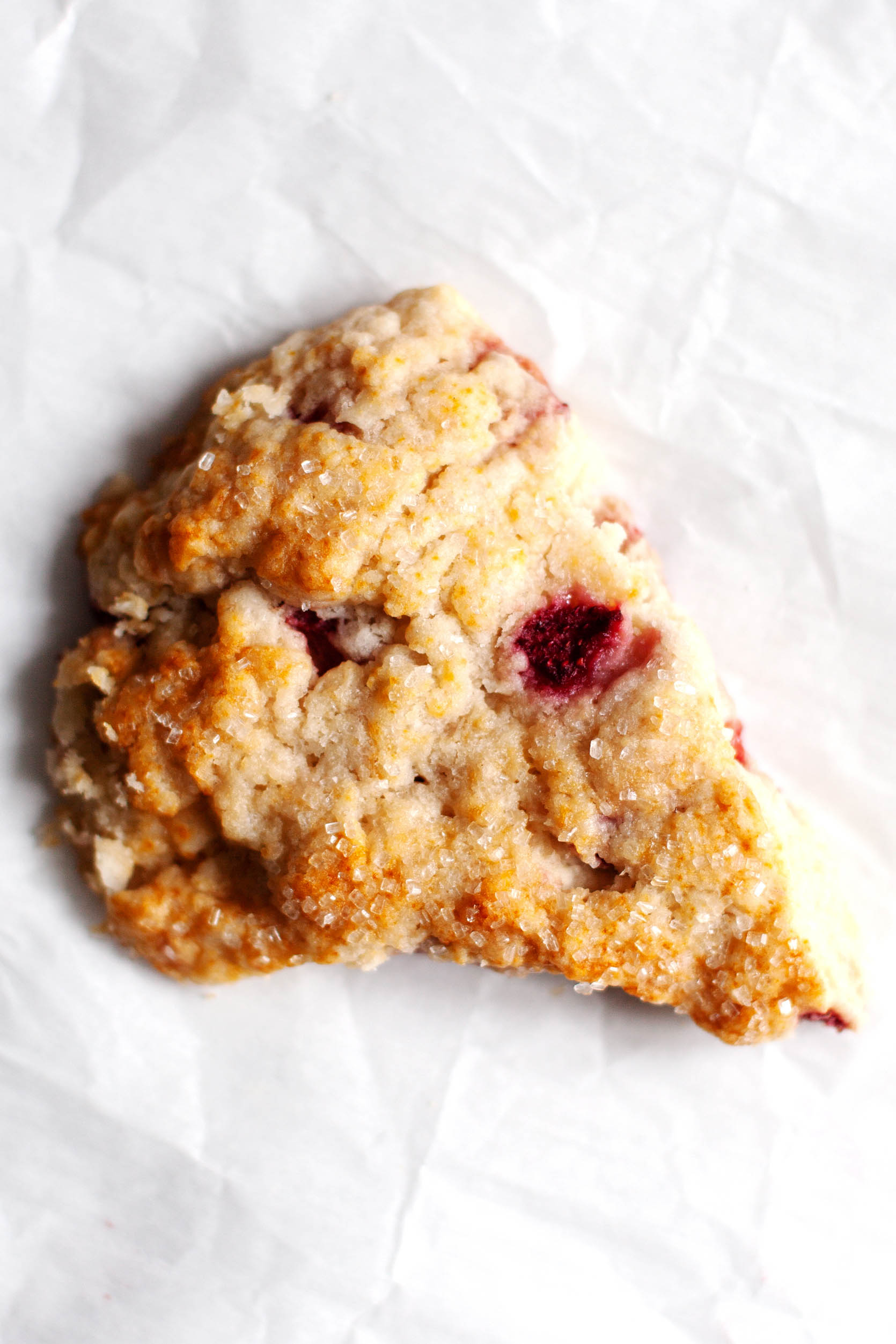 Ingredients for a perfect vegan scone
Scone consistency is someplace in between biscuits and cake. Scones are supposed to be somewhat crumbly and layered, but they're usually softer and more tender than a traditional, flaky biscuit. It probably won't come as a surprise that I prefer my scones to be on the more cake-like side of the spectrum. My perfect scone is soft and tender on the interior, crisp and a little crumbly at the edges. More importantly, it's sweet-but-not-too-sweet, with plenty of buttery flavor.
To achieve that flavor, I use vegan butter to make my scones. But I've tried making them with solid coconut oil, too, and while it isn't as buttery, it still works. Most scone recipes also call for cream. I've used cashew cream and a bunch of different non-dairy milks in its place. This recipe uses full fat coconut milk in place of cream. It's rich enough to mimic cream easily, but there's not enough in the recipe to make the scones taste overly coconutty.
Vegan strawberry scone making tips
The main trick of the trade with scones is to keep everything cold, just as you would with pie crust or biscuits. Cold butter and minimal handling of the dough make for a more crumbly scone. The dough for these vegan strawberry scones will be crumbly in some places, which is OK: it should be a little messy as you shape it into a round.
I used to use a food processor for both scones and pie crust. Over time, I've come to prefer using a pastry cutter. It gives me a little more control and makes it easy to see how small my pieces of butter have become. The aim is to have pieces of butter distributed throughout the flour that are the size of peas, or a little smaller. It's easy to do this with a pastry cutter, but you can also use a fork or butter knives.
Two things make it easier to shape these scones: first, turning the dough out onto parchment for shaping. You can definitely shape the dough on a pastry board or floured countertop if you like, but I think doing it on parchment is less messy. Especially with little berry pieces that are likely to tumble out of the dough! I like to shape the dough into a round, then cut it into 8 slices.
My second tip is to use a pie server, if you have one, to transfer the scones to your lined baking sheet. The scones will still be crumbly as you do this, and a pie server is the right shape for keeping them intact.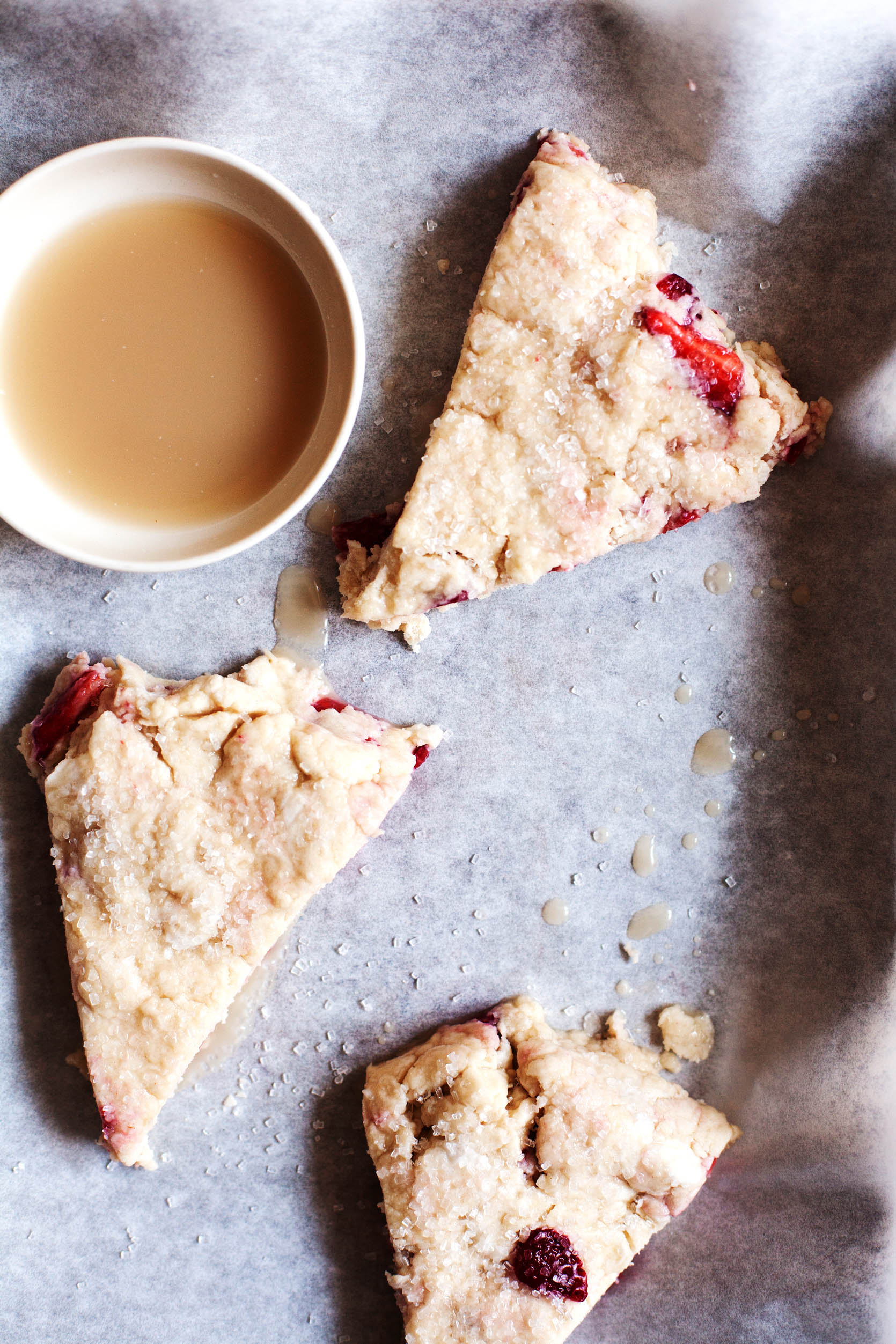 Decorating options
If you'd like to get a little fancy, you can definitely add some glaze (like the glaze in these sweet cherry bars) to your vegan strawberry scones. But I usually keep my scone decorations minimal. Combining non-dairy milk with agave or maple syrup makes for a good vegan egg wash. Once that's ready, you can brush it over the tops of the scones and use sparkling sugar for a little sparkle and crunch
Sparkling sugar isn't too hard to find—I like this one from Bob's Red Mill—but there are substitutes if you don't have it. A dusting of cane sugar or demerara sugar will look festive, too.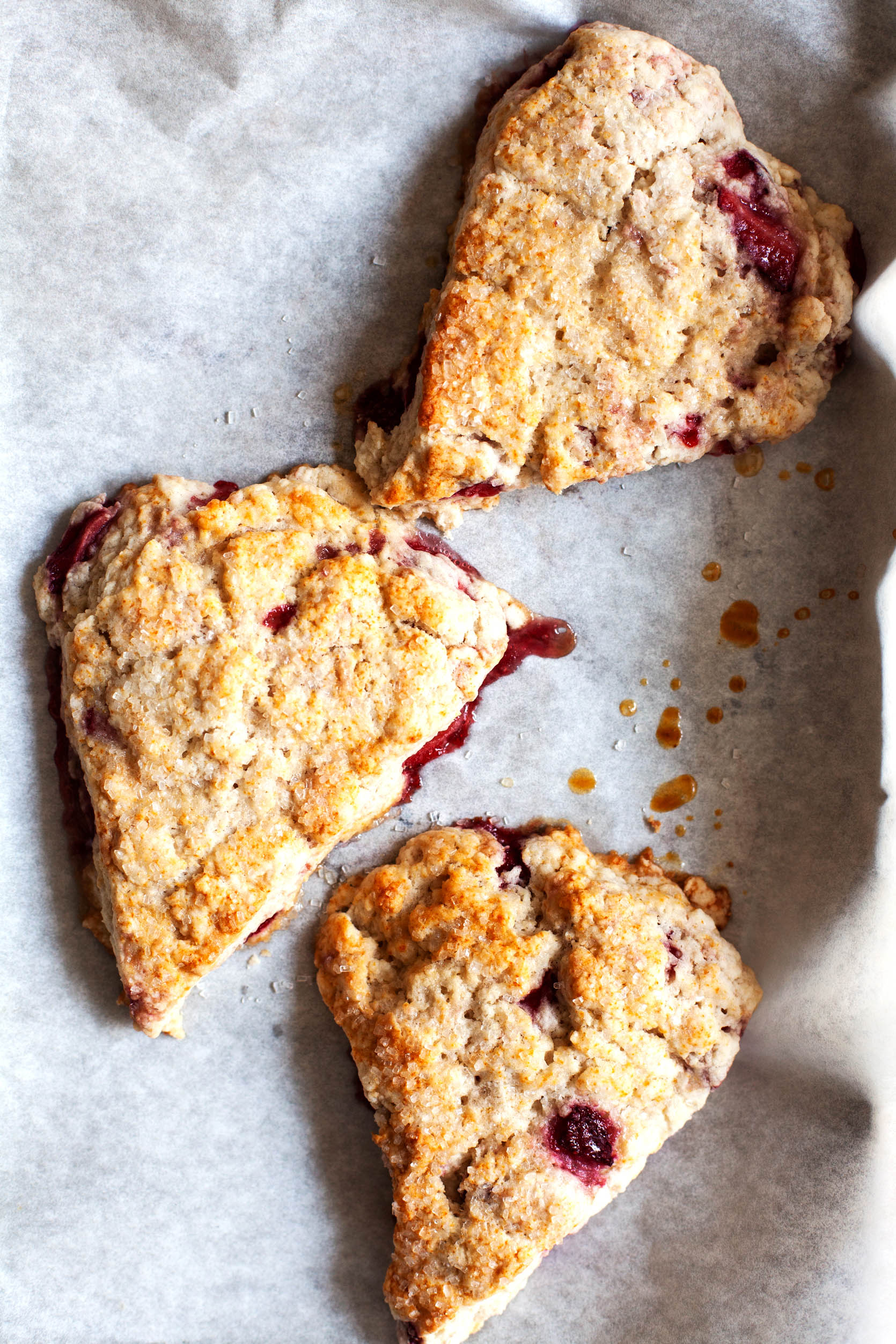 Storing and freezing scones
If your home space warms up and gets humid as quickly as mine does during the summer, it will be a little difficult to keep your scones crumbly. The good news is that leftover scones are delicious even if they lose a little crispness. If you like, you can warm and crisp them up in the oven at a low temperature (200 or 250F) for ten or fifteen minutes before enjoying.
You can also freeze your scones to preserve their freshness. They'll keep for up to six weeks in the freezer. Otherwise, store the scones in an airtight container in a cool, dry place for up to three days. If you suspect you won't finish a batch within that time, you can freeze half or more once they're baked.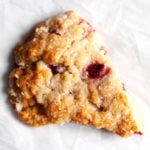 Vegan Strawberry Scones
Author – Gena Hamshaw
2 1/4

cups

(270 g) unbleached, all-purpose flour

6

tablespoons

(75 g) cane sugar

2 1/2

teaspoons

baking powder

1/2

teaspoon

+ 1/8 teaspoon kosher salt

8

tablespoons

(112 g, or 1 stick) cold butter, sliced

1/2

cup

full fat, canned coconut milk

1

teaspoon

vanilla extract

1

cup

washed, trimmed, and chopped fresh strawberries

1

tablespoon

non-dairy milk (oat, almond, soy, and coconut are all fine)

1

tablespoon

maple syrup or agave syrup

sparkling sugar, for decoration
Preheat your oven to 350F and line a baking sheet with parchment.

In a large mixing bowl, whisk together the flour, sugar, baking powder, and salt.

Use a pastry cutter (or butter knives, or forks) to cut your cold butter slices into the dry flour mixture. You're aiming for pieces of butter that are about the size of peas, or a little smaller, once you've incorporated the butter.

Make a well in the middle of the butter and flour mixture. Pour in the coconut milk and vanilla. Use a spatula to roughly mix everything. The dough should be a bit dry and crumbly in parts but holding together if you gently squeeze it. Gently use your hands to fold in the strawberry pieces.

Turn the dough out onto a large sheet of parchment or a floured work surface. Use your hands to quickly, gently shape the dough into a disk that's about 9 inches in diameter and about 3/4-1 inch high. Cut the disk into 8 slices.

Use a pie server (or spatula) to gently transfer each slice to your prepared baking sheet. Alternately, you can nudge the slices apart on the parchment you've been working on and gently slide it onto a baking sheet.

Whisk together the tablespoon of non-dairy milk and the syrup. Gently brush this mixture (a vegan egg wash!) onto the scones. Sprinkle the tops with sparkling sugar.

Transfer the baking sheet to the oven. Bake the scones for 20-25 minutes, or until browning at the edges and still pale on top. Allow the scones to cool on the sheet for a few minutes before transferring them to a cooling rack. Allow them to cool for another 15-20 minutes before enjoying!
Ingredient swaps and substitutions
You can successfully try the scones with either white whole wheat or whole wheat pastry flour. If you have a go-to gluten free flour blend, you can use that in place of all purpose flour, too. I don't recommend all whole wheat flour for these, as the texture might become dense. But you can definitely swap some of the all purpose flour for a small amount of wheat flour, if you like.
In place of the coconut milk, you can use a vegan creamer or my all purpose cashew cream.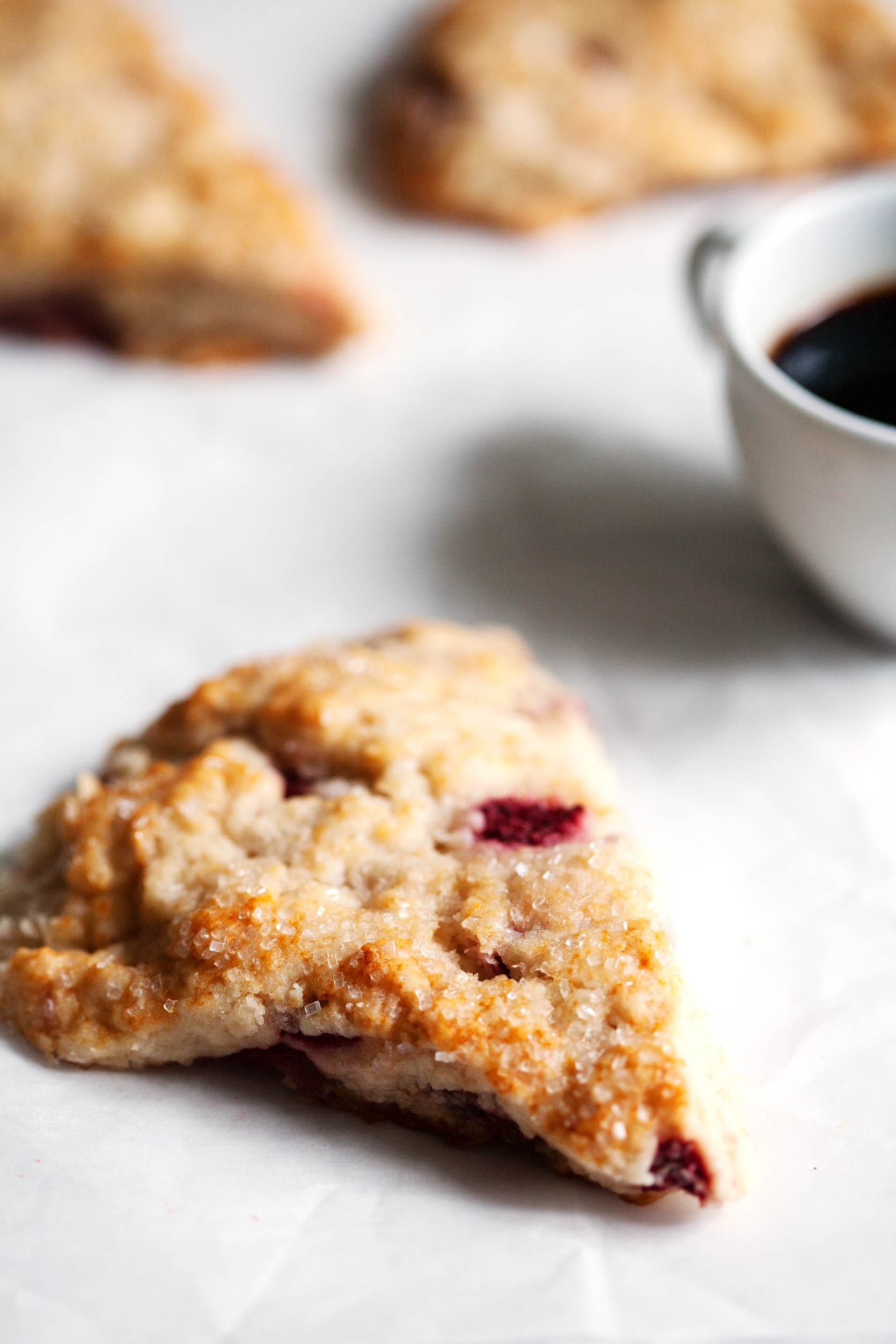 Vegan strawberry scones are a taste of summer sweetness at breakfast or as a tea time snack (or an afternoon cold brew snack, if you're a coffee lover like me). I think they'd be nice for sharing at a brunch or for gifting to friends who need a homemade treat. I had big plans to deliver some of my scones to friends last week, but a few days of rainy weather got in the way. It's a good excuse to make them again soon.
Hope you'll enjoy these treats and the juicy berries that make them special. I'll be back later this week with a new, simple taco recipe.
xo