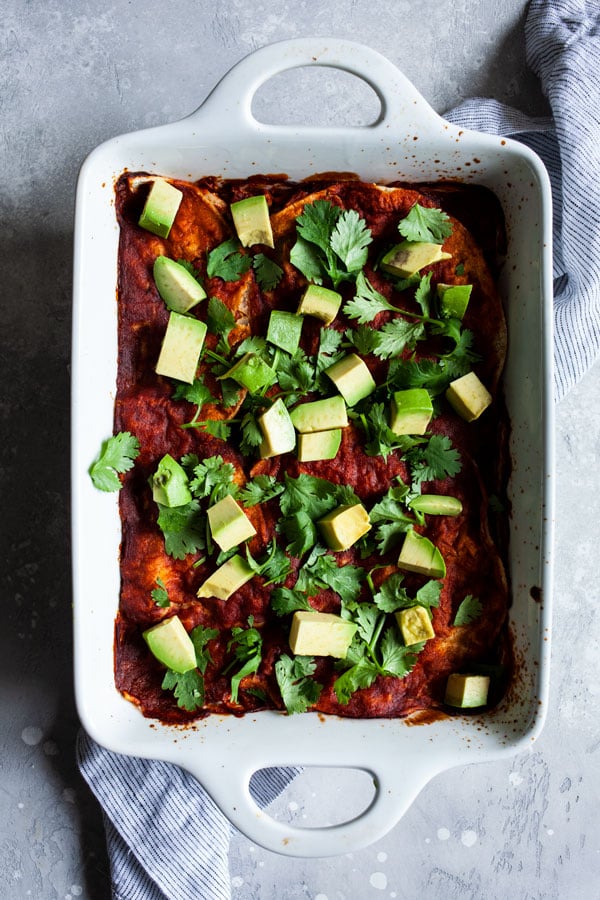 A few weeks ago, in sharing a lasagna recipe, I mentioned that big, casserole-like dishes have been a meal prep time-saver for me lately. They're more involved than other recipes, but once they've been prepared, they give me at least 4-6 extra portions of food. And they're a nice way to break up my routine of soups and stews and bowls, which—though trusty allies throughout my whole internship year—are getting a little repetitive at this point.
I often get requests for make-ahead breakfasts in general, and savory make-ahead breakfasts in particular. I can relate well to the demand for this kind of recipe, since I'm always on the hunt for new ideas myself. I'm a big breakfast eater, and my early hours this year have made it difficult to eat breakfasts that are as satisfying as what I'm used to making at home, but also easy to transport to work.
This breakfast enchilada casserole doesn't have to be eaten for breakfast, of course; it's great for dinner, too, and I've enjoyed it at both mealtimes. But I'm a big believer in getting a nice bolus of protein at breakfast (bolus! Always a funny-sounding word when I put it into writing), and the soy curls in the recipe make that an easy task here.
Soy curls are one of my favorite plant-based proteins. They're inexpensive, a whole food (whole, non-GMO soy beans are the only ingredient), versatile, and they make a vegan "chick'n" that's about as good as any store-bought vegan meat you can find, only cheaper. They're also low in fat and packed with protein, so perfect when a protein-rich morning meal is the goal.
It was my original plan to use layers of shredded vegan cheese in the recipe—pepperjack or cheddar—but I ended up forgetting to pick up any the week I made the casserole. I had plenty of cashew cream in my freezer, as I usually do, so I decided to use layers of homemade cashew cream instead.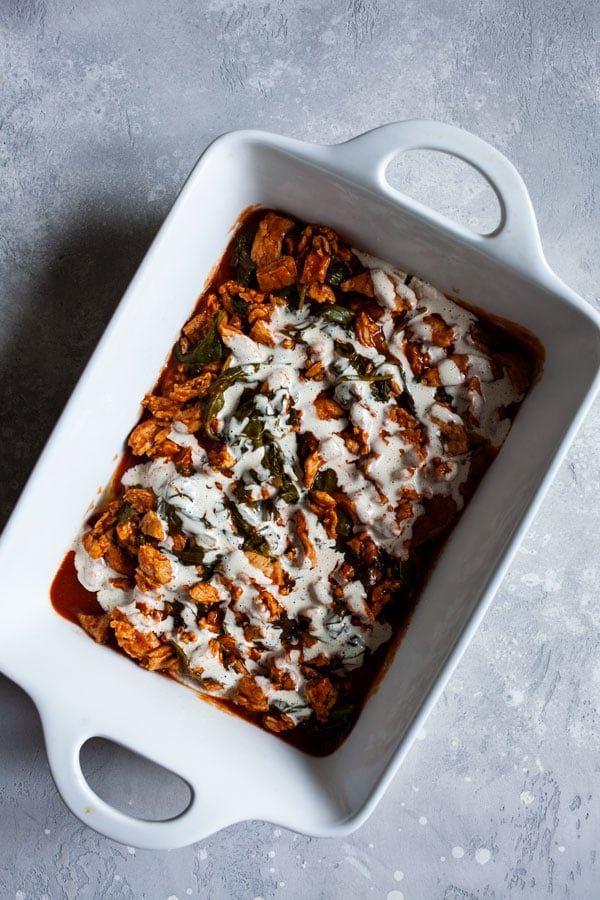 It worked out just fine. The cashew cream definitely tastes less "cheesy" than a store-bought vegan cheese would, but it sort of melts into the vegan chick'n and greens while the casserole bakes, giving the whole dish a creamy texture. It's an easy option if you make cashew cream regularly and have some at the ready, or if you've got a powerful blender at home.
If you'd prefer to use a vegan cheese, that's fine, too, and you can just sprinkle some onto each layer instead of drizzling the cream. (Lately my favorite is the Violife brand.)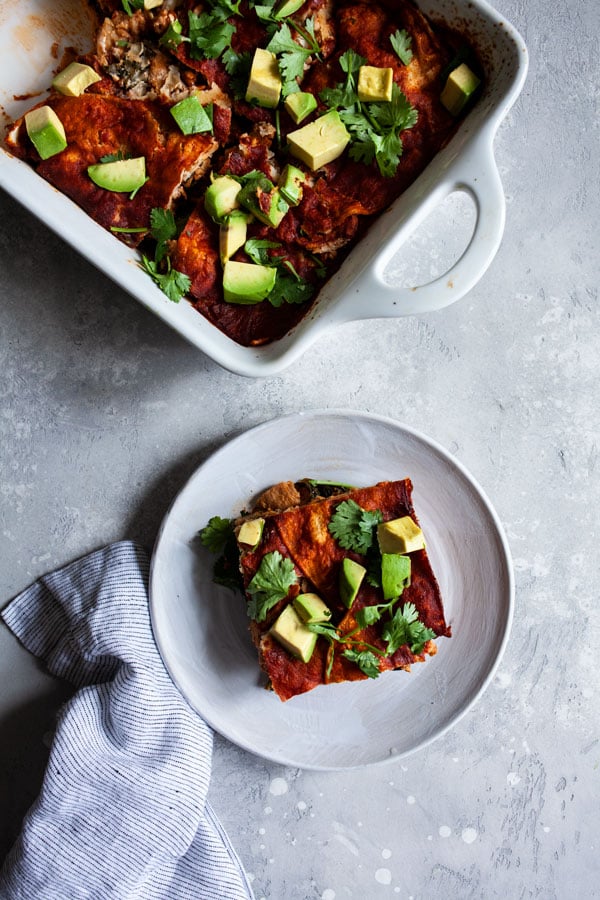 Aside from that, don't let the name of "casserole" fool you. This couldn't be easier to put together. If you like to make your own enchilada sauce and want to use it, go for it; I used the store-bought stuff for convenience, and the whole dish was assembled in about 20-25 minutes, including the time it took to make the soy curls. It'd be even quicker if you prepared them in advance. Here's how to do it!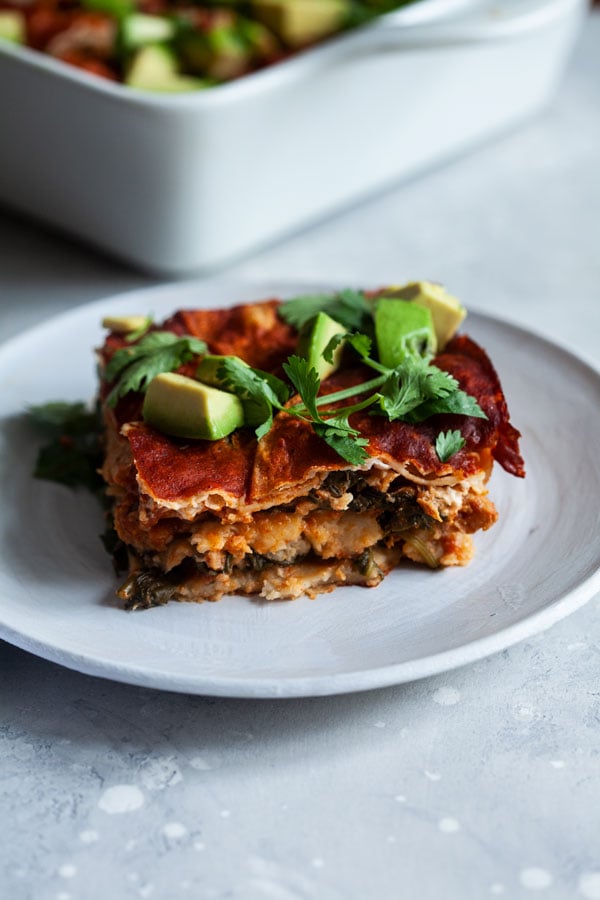 Vegan Chick'n Enchilada Breakfast Casserole
Prep Time20 mins
Cook Time30 mins
Servings: 6 servings
Ingredients
4

cups

boiling water

1

vegan bouillon cube (chicken flavored works best, but herb/vegetable is also fine)

2

tablespoons

tamari

1/2

teaspoon

smoked paprika

1

teaspoon

onion powder

5

ounces

baby spinach (substitute chopped leafy greens of choice, or frozen and chopped leafy greens of choice)

12-15

6-inch corn or flour tortillas (12 fit my casserole dish perfectly; you may wish to have a few extra on hand)

2

15-ounce

cans or jars of red enchilada sauce (substitute 3 heaping cups of homemade enchilada sauce)

chopped fresh avocado and cilantro leaves/stems, for topping
Instructions
First, prepare the chick'n style soy curls. Place the bouillon in a large, heatproof bowl. Bring the water to a boil. Pour it over the bouillon cube, then add the tamari, smoked paprika, and onion powder. Stir everything well, then add the soy curls. Cover the bowl and let it sit for 10 minutes. Drain the hydrated soy curls in a colander, pressing them gently to help remove as much moisture as you can. You can prepare these in advance and store them in an airtight container in the fridge for up to 5 days. They can also be frozen for up to 6 weeks.

Preheat your oven to 375F and lightly oil the bottom of a 9 x 13 inch baking dish. Pour one can (1 1/2 cups) of enchilada sauce into a large, deep skillet. Bring to a simmer over medium low heat. Add the prepared chick'n style soy curls and the baby spinach. Heat and stir until the spinach has wilted.

Pour 1/2 cup of enchilada sauce (from your remaining can) onto the bottom of the casserole dish and spread it around into a thin layer. Layer 4 tortillas over it (for my dish, I could layer three in a row and then cut an additional fourth in half and used it to cover space at the sides). Layer 1/2 of the chick'n/spinach mixture over the tortillas. Top with 1/2 cup enchilada sauce and drizzle with 1/2 cup cashew cream. Cover this layer with another 4 tortillas, the remaining chick'n/spinach mixture, another 1/2 cup sauce, and 1/2 cup cashew cream. Top with 4 more tortillas, then pour about 3/4 cup sauce on top of these, spreading the sauce evenly to cover the casserole. Transfer the dish to the oven and bake for 30-35 minutes, or until the top is darkening and the sauce is bubbling.

When the casserole has cooled for about 10 minutes, you can top it with chopped avocado and fresh chopped cilantro. Cut into 6 pieces and serve!
Notes
In place of the chick'n style soy curls in the recipe, you can use 20-25 ounces of your favorite seitan or jackfruit!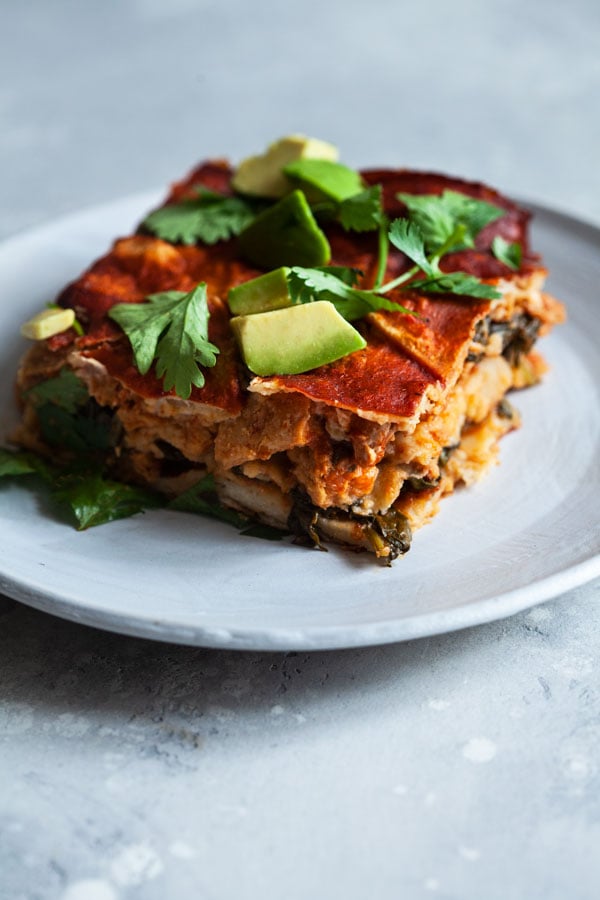 This recipe was inspired by a non-vegan version from my friend Ali. If you check out her post, you'll get instructions on making homemade enchilada sauce, if you'd like to. I'd put this recipe into the "semi-homemade" category as it is, but preparing sauce from scratch will definitely give it a more wholly homemade feel.
Greens, protein, some starch from the tortillas: this is a breakfast formula that satisfies me and keeps me going happily till my morning snack. I haven't always had breakfasts like this as an internship student; I've had more squares of baked oatmeal than I can count, sometimes a double dose of the whole meal muffins from Power Plates, sometimes toast if I can eat at home. Lately, it's been microwaved oatmeal at work. But when I have the option of something savory and hearty and protein-dense, like this, I'll always take it.
Enjoy, friends, and see you later this week.
xo