This is a plant-based spin on traditional Greek salad, made with the wholesome addition of chickpeas. It features a tart, salty vegan tofu feta, crisp romaine, tomatoes, cucumbers, and red onion.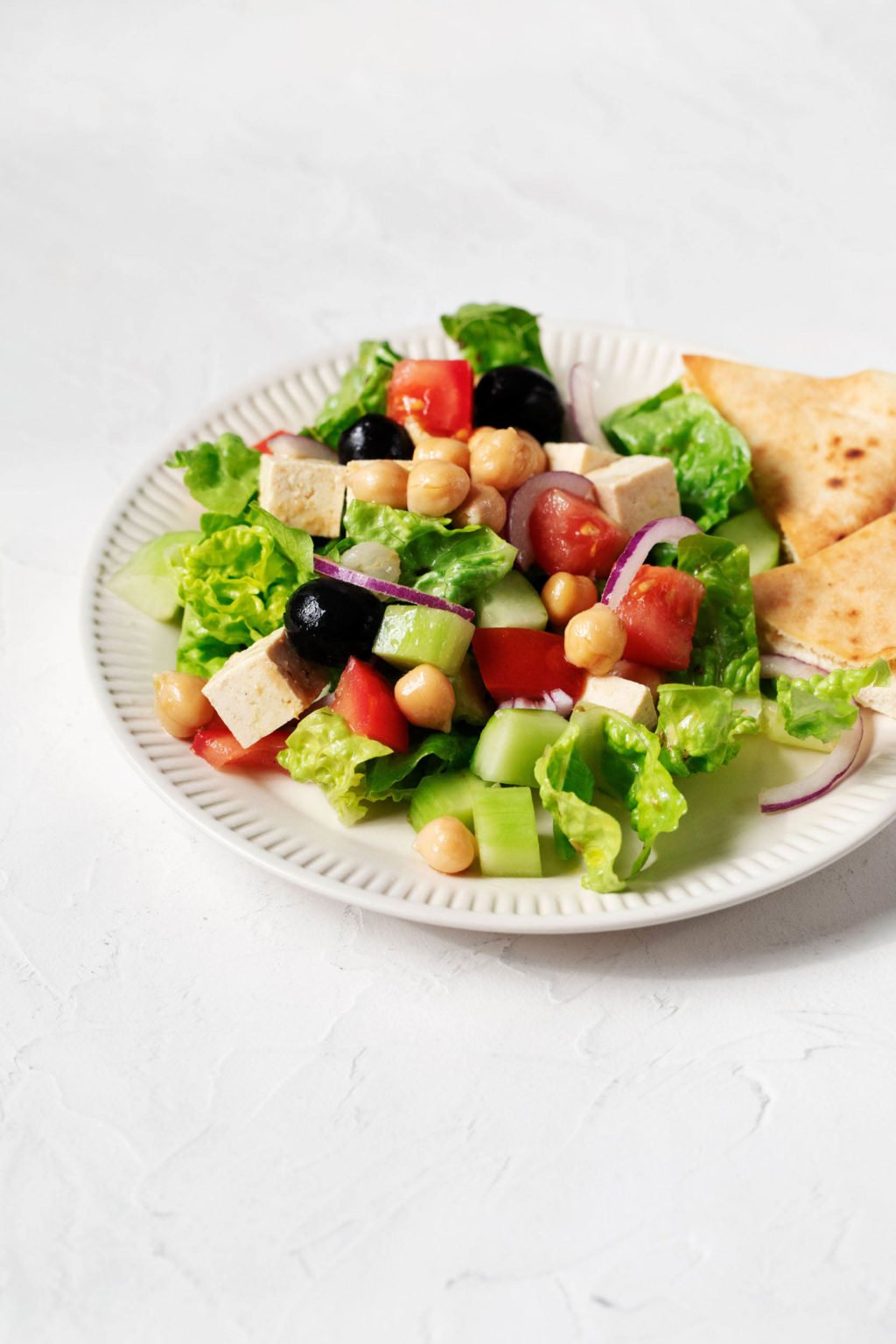 It feels so good to welcome in the official start of summer. It's also the official start of salad season, though technically I've been enjoying salads since it started to get warm in New York.
A little while ago, I shared a simple Greek vinaigrette dressing. This dressing has been giving life not only to my salads, but also to my grain bowls and roasted vegetables.
Since I had Greek vinaigrette on hand last week, I figured it was time to make a cool, crispy, refreshing vegan Greek salad. I've made a barley version in the past, and I love it. This time I thought it might be fun to add a legume, not only because I love beans, but also because it's added plant protein (in addition to the tofu feta).
I love how this chickpea Greek salad turned out! It's refreshing yet hearty at the same time. With a few pita wedges, it's an absolutely perfect summer lunch.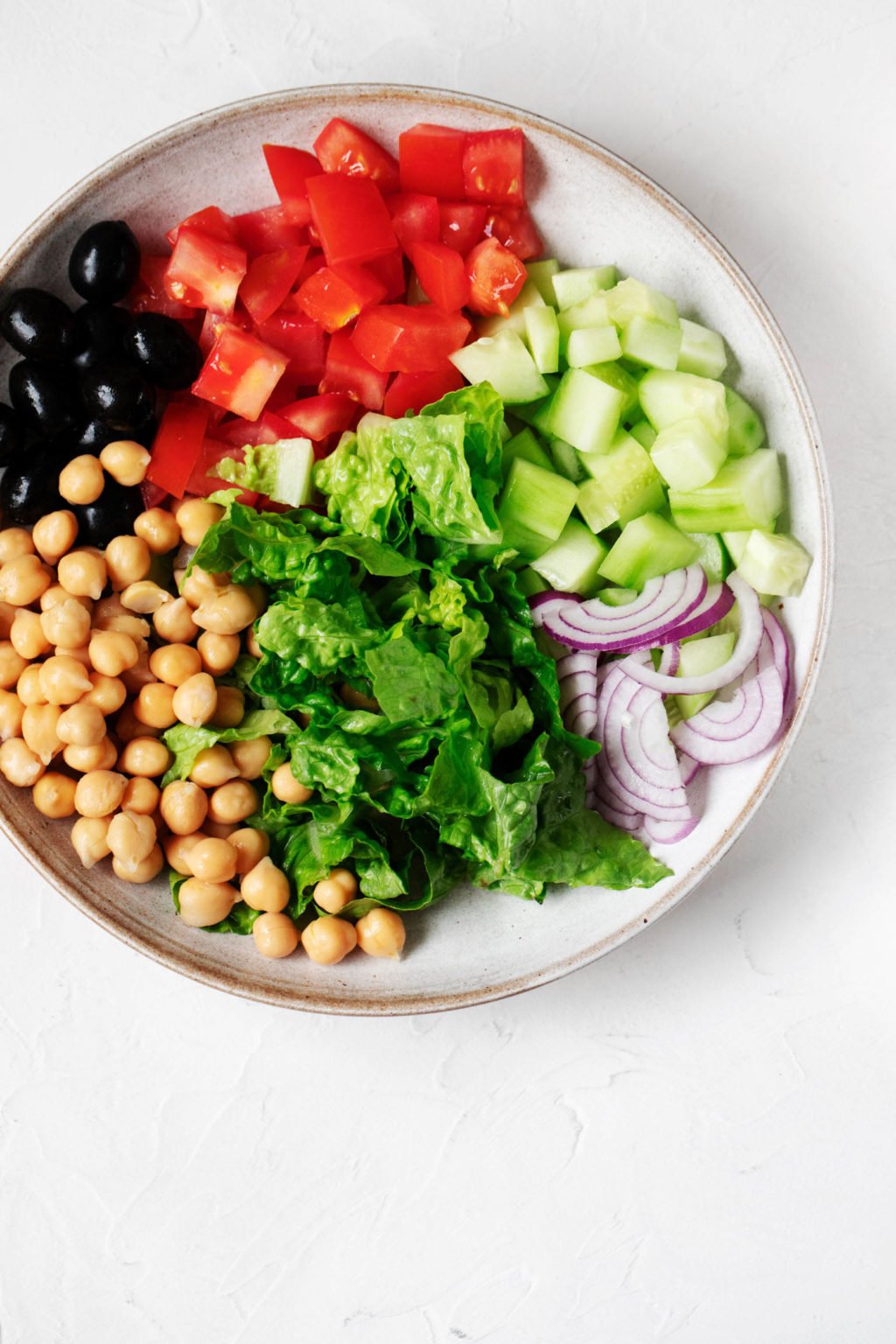 What's in a Greek salad?
Greek salad is typically made with cucumbers, tomato, red onion, olives, and feta cheese. I've seen some recipes that include capers and some that include fresh oregano. Here, the oregano is dried, and it comes from the Greek vinaigrette.
I love the simplicity of a Greek salad. It's a beloved recipe for a reason! But I'm rarely sorry when I add chickpeas to a recipe, and this chickpea version of Greek salad is no exception. The chickpeas add texture as well as plant protein and fiber. They help to make the salad more filling, too.
How to make chickpea Greek salad
This recipe calls for herbed tofu feta, and herbed tofu feta calls for a nice long marinade. When I make the chickpea Greek salad, I generally make the tofu marinade a day in advance. It tastes best when it marinates overnight.
Preparing the rest of the salad is really simple. The vinaigrette takes only minutes to whisk together, and the other salad ingredients are raw. The most time consuming step of salad preparation is probably peeling and chopping the vegetables.
Substitutions & additions
In place of chickpeas, you can use white beans, kidney beans, or another bean of choice in the salad. Lentils, which I've been loving in Niçoise salad this year, would also make a nice addition.
You can add some cooked quinoa, barley, or bulgur to the salad if you have a scoop of it leftover. I serve the recipe with pita wedges without fail, but I think it would be fun to add cubed bread and make a Greek panzanella of sorts.
If you don't have the time to make tofu feta from scratch, you can try using a store-bought vegan feta in its place. The Follow Your Heart and Violife brands make vegan feta, and I'm a fan of both versions.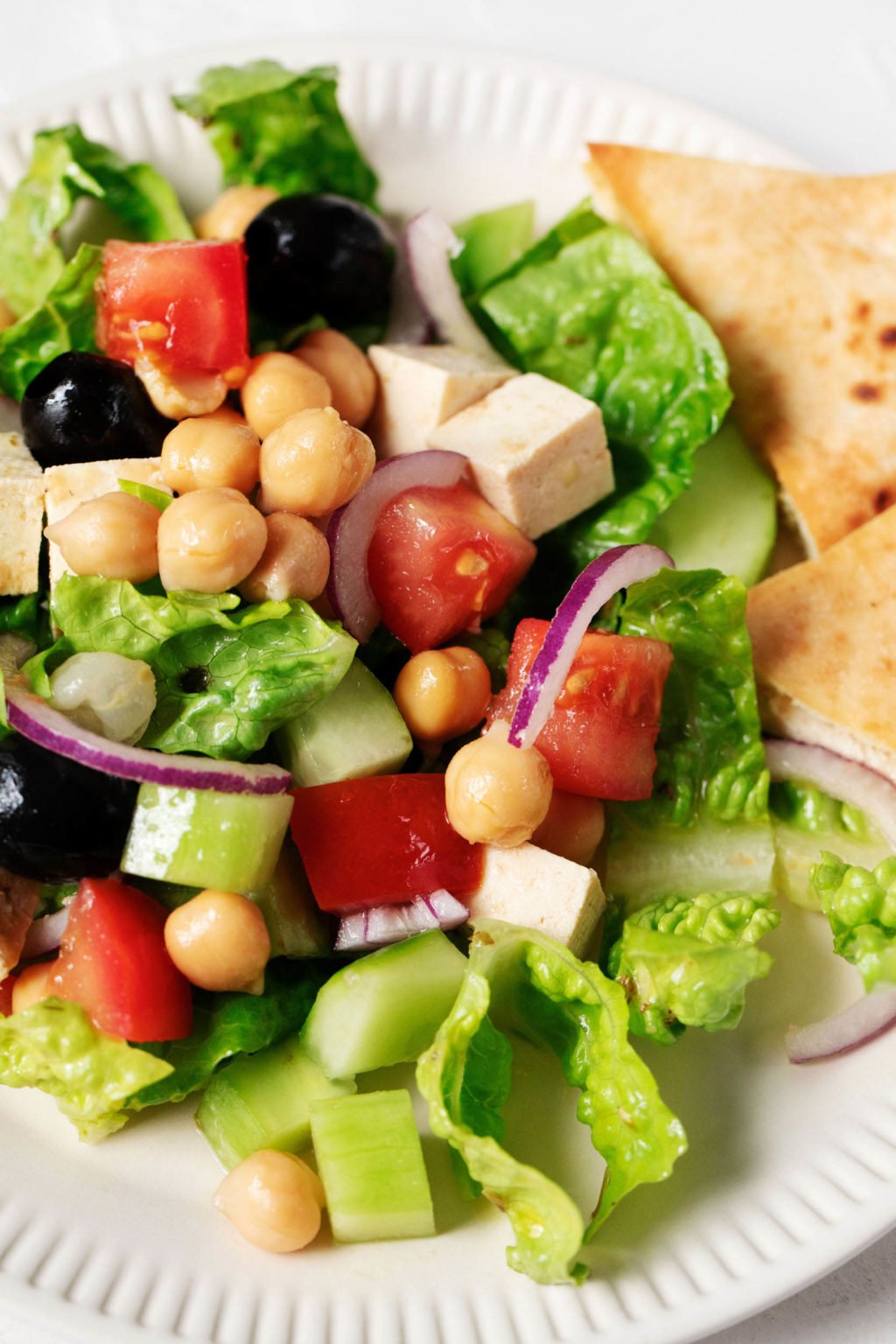 Storing chickpea Greek salad
This salad keeps well in leftover form. The romaine will lose some of its crispness as the salad is stored, but the whole mixture is still good for about three days. Over time, the flavors will meld together even more. I think that the tofu feta continues to intensify in flavor as the salad keeps.
Speaking of the tofu feta, it can be prepared up to two days in advance of making the salad.
More summery salads
If this salad is right up your alley, then there's a good chance that some of the following might spark inspiration, too. These are some of my favorite bright, refreshing, crispy salads for long, hot days.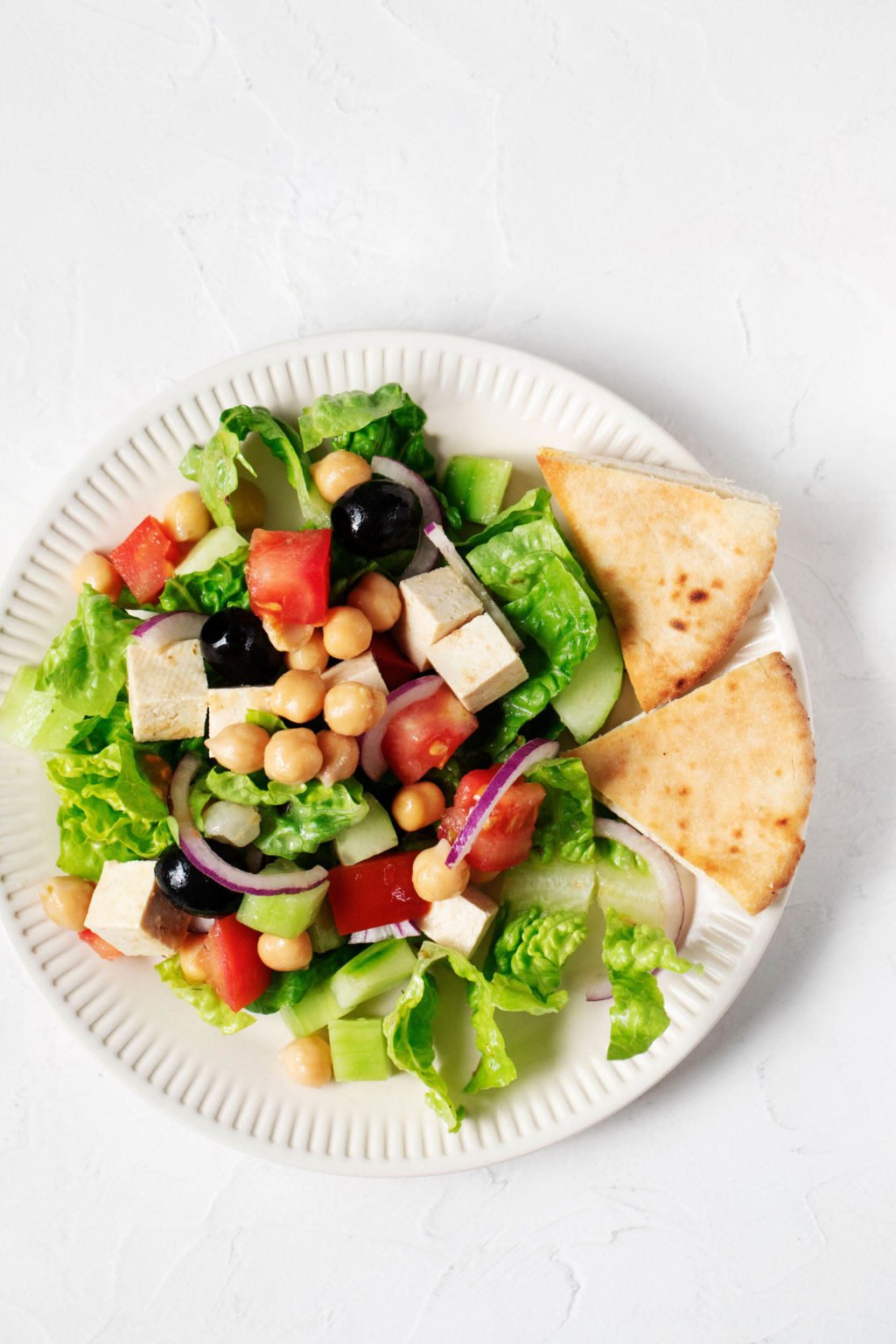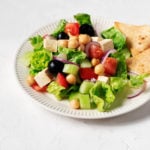 2

beefsteak tomatoes, roughly chopped 

1

large, English cucumber or 2 regular cucumbers, peeled, quartered lengthwise, and chopped

3/4

cup

kalamata olives, whole if small or halved if large

1

small head romaine lettuce, chopped

1/2

red onion, thinly sliced

1 1/2

cups

cooked chickpeas

(1 14.5-ounce can, drained and rinsed)

1

batch

tofu feta

(with or without the oregano)

6

tablespoons

Greek vinaigrette
cashew parmesan cheese

(to taste)

pita wedges

(optional, for serving)
In a large mixing bowl, combine the tomatoes, cucumber, olives, lettuce, onion, chickpeas, and vinaigrette. Remove the tofu feta from its marinade and add it to the bowl. Toss everything well.

Taste and add either more of the vinaigrette or more of the tofu feta marinade, as you like. Fold in some cashew parmesan, if desired. Serve with pita wedges.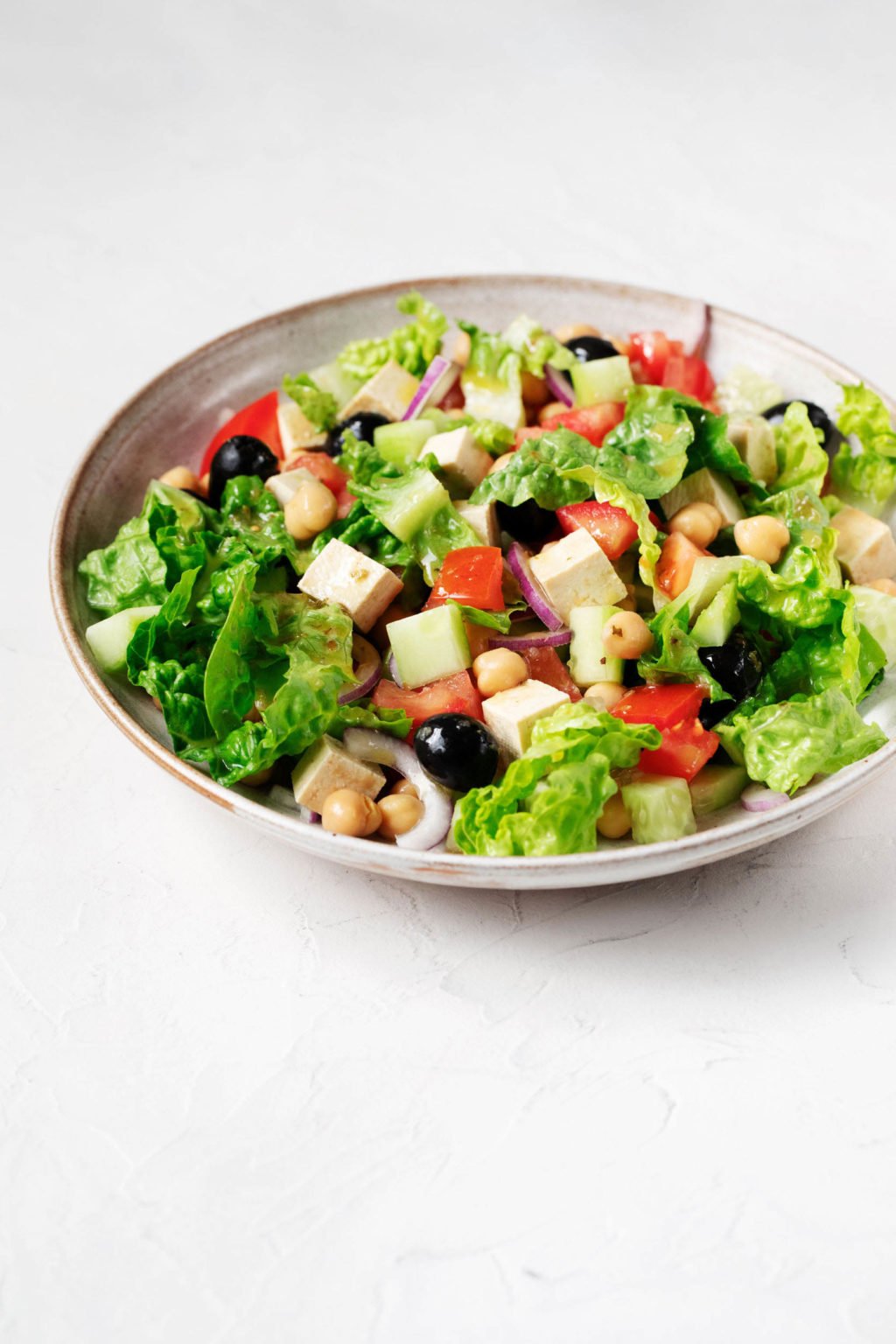 Happy June, everyone! I hope you'll enjoy this quintessential summer dish.
xo